Samsung announced its 64MP image sensor, the ISOCELL GW1 couple of months ago. It marks as the industry's first high-resolution image sensor for the smartphones. Now it seems, other Chinese firms are in a race to implement the technology on their smartphones. A little while ago, Xioami had shown-off a smartphone featuring the GW1. Now, another budding Chinese company the Realme is in action exhibiting its quad-camera setup comprising of the same 64MP GW1 sensor.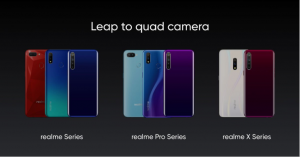 Realme showcased the quad-camera setups which is in its arsenal at an event in New Delhi. They also gave a foresight of Realme devices which are due to be launched in India on October.
In detail, the sub-brand of OPPO, Realme will be launching three devices with quad-camera devices across various price segments in India. Among the three, one flaunts Samsung's ISOCELL 64MP as the sensor of main camera. Moreover, two of these devices sans the 64MP have been confirmed to be launched as Realme 5 and the 5 Pro. While, details regarding the 64MP flaunting device is not clear yet.
As of the Samsung ISOCELL GW1 sensor, it's the first 64Mp resolution image sensor designed to take bright and sharp photographs in any lighting with Tetracell and 3D HDR technology on mobile phones. As per Samsung, the ISOCELL Bright GW1 features 0.8um pixel with ISOCELL Plus technology that significantly increases light sensitivity and color fidelity for more accurate and clearer photos. Furthermore, the Tetracell technology delivers brighter photo of 16Mp in low light, while remosaic algorithm creates more detailed 64Mp photo in daylight. The 3D HDR technology enables to capture more detailed images and video even in mixed and challenging lighting environment.​ All in all it gives a further push in the mobile photography evolution.

That being said, Xiaomi is almost ready with its smartphone boasting the 64MP sensor. In parallel, Realme is diligent to launch their version soon in India. Amidst the race, it's quite interesting to not to see a Samsung phone which is rumored to flaunt its own tech the ISOCELL GW1. What you've to say about this anomaly? Is Samsung letting others win by giving early access to its technology? Do let us know your views down in the comments.