In an exciting development from the Samsung developers, the galaxy S22 Users can soon get the ability to customize the shutter speed, focus, sensitivity, and other metrics as like in the Pro Mode while using the Hyperlapse Mode. If the feature gets live, then users would be able to record stunning timelapse videos. Samsung Galaxy S22 series could soon get shutter speed, focus, and ISO settings while using the Hyperlapse Mode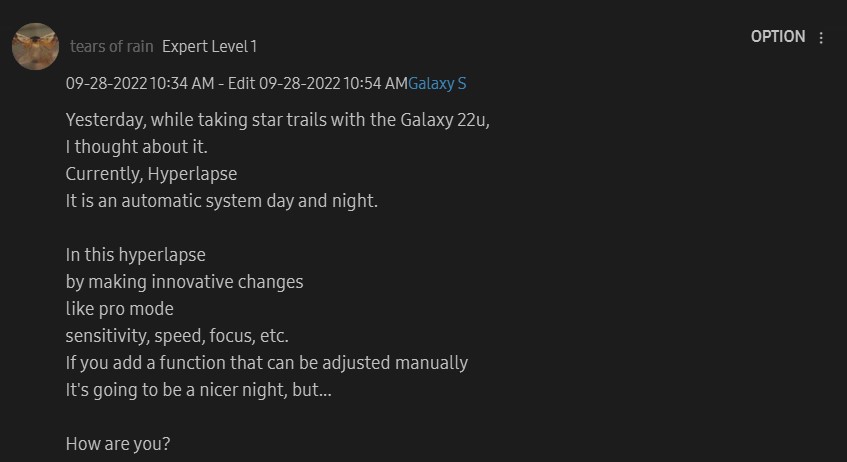 Must See: [Update: Galaxy S23 design revealed] Samsung Galaxy 23 Leaks
It would be an innovative feature if Samsung adds the ability to tinker with shutter speed, ISO, focus, and White balance in Hyperlapse Mode. The users would be able to record compelling videos such as astrophotography videos without owning expensive SLRs or mirrorless cameras.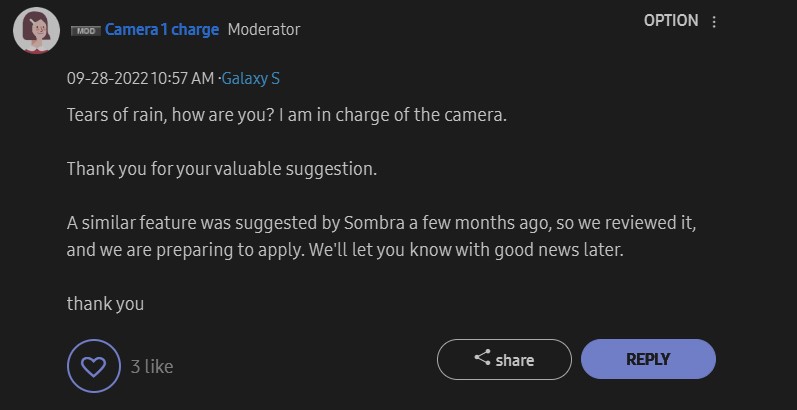 The feature is suggested by the users, and the Samsung developers are working on the suggestion. While replying to a user requesting a similar feature on Samsung Korean Community, Camera Charge replied that "they are preparing to introduce (translated)" the feature on Galaxy S22 series.
Related: [Update: September 2022 Security Patch] Samsung Galaxy S22 Series Updates Tracker
Samsung currently offers speed presets in the Hyperlapse Mode which is divided into Day and Night categories. If the new feature comes, then there would be additional settings along with the speed presets. However, Samsung Note 20 is soon going to get, probably this week, the Expert RAW app.