Samsung hasn't quoted this but the press release from the Canadian carrier, Telus reveals that Samsung Galaxy S4 will be available in more colors later this year.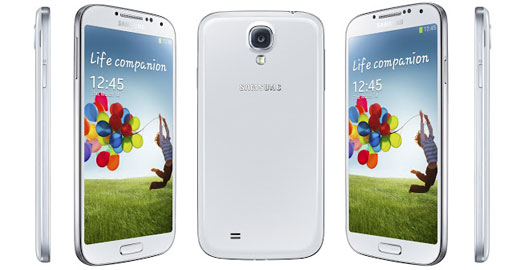 Today, AT&T has outed its Pre Order page for Galaxy S4 and it will start shipping from April 30th. Similarly Galaxy S4 pre-orders are live in Canada from various carriers including Bell, Rogers, Telus, Videotron and Virgin.
Coming back to the Telus Press Release which states that:
At Canadian launch, two color options will be available – Black Mist and White Frost; with additional color options to follow later this year.
Currently device is available in Black Mist and White Frost colors all around the world. Samsung similarly outed its Galaxy S3 device — which was also available in blue and white only — then after company added few more colors like brown, red, black, grey and purple.
[toggle_simple title="Press release" width="630px"]
TELUS and Samsung Canada announce the Canadian availability of the GALAXY S4
With the GALAXY S4 Canadians can experience more, live more and accomplish more than ever before

TORONTO, ON – TELUS and Samsung Canada are pleased to announce that the Samsung GALAXY S4 is available at TELUS for pre-order today at www.telusmobility.com/GALAXYS4. Customers who pre-order the GALAXY S4 will be the first to receive their devices starting on April 27 with in-store availability beginning May 3. The Samsung GALAXY S4 will be available on TELUS' blazing fast 4G LTE network for $199 on a 3-year term with a minimum $50 monthly plan before tax or $700 month-to-month. TELUS' 4G LTE service now covers more than 70 per cent of the Canadian population across approximately 170 markets.

The fourth generation of the successful GALAXY S family was designed with insight from consumers to truly understand what matters most in their lives. With an enhanced feature set, the technologically innovative GALAXY S4 truly enables Canadians to live in a world of infinite possibilities.

Designed to get Canadians closer to what matters and make every moment meaningful, the GALAXY S4 gives consumers great enjoyment through enhancements to the user interface. New navigation features include 'Smart Pause', which allows users to scroll the screen based on where they are looking. Another feature is 'Air View' which allows users to hover their fingers over the screen to preview the content of an email, S Planner, gallery image or video without having to open it. And with 'Air Gesture', users can change the music track, scroll up and down a web page, or accept a call with a wave of the hand.

The device features a highly crafted design that surrounds a larger screen size and battery, minimized bezel; all housed in a light (130g) and slim (7.9mm) shape. The Samsung GALAXY S4 is slimmer yet stronger, with less to hold yet more to see, with the world's first Full HD Super AMOLED display. Equipped with 13 megapixel rear camera, the GS4 also boasts a 'Dual Camera,' that allows simultaneous use of both front and rear cameras and enables functions such as 'Dual Video Call', allowing users to make and receive a video call with friends and family while showing what you are looking at during the call.

"Samsung is a consummate innovator and their dedication to delivering devices that enrich people's lives shines brightly in the new GALAXY S4," said Dave Fuller, Chief Marketing Officer, TELUS. "Our customers demand more from their phones today. They want devices that keep them connected and enable them to balance their personal interests while helping them to be more efficient – all this from a service provider that listens to them and provides an outstanding service experience on a fast and reliable network – a service provider like TELUS. We combine the awesome GALAXY S4 with programs such as TELUS Learning Centres and the largest 4G LTE network in Canada."

"Samsung is proud to bring the highly anticipated Samsung GALAXY S4 to Canadians on the TELUS network," said Paul Brannen, Vice President, Enterprise Business Solutions at Samsung Canada. "The GALAXY S4 was developed based on consumer insights and needs and this device is a proof point of people inspired innovation. We feel that the GS4 will truly enhance the way Canadians live, inspiring them to capture unforgettable moments in more ways than ever before."

Availability
The Samsung GALAXY S4 is available to pre-order today from TELUS with device delivery commencing on April 27, and in-store availability starting May 3. At Canadian launch, two color options will be available – Black Mist and White Frost; with additional color options to follow later this year. For further product and availability information, please visit www.telusmobility.com/GALAXYS4.

About TELUS
TELUS (TSX: T, NYSE: TU) is a leading national telecommunications company in Canada, with $10.9 billion of annual revenue and more than 13.1 million customer connections, including 7.7 million wireless subscribers, 3.4 million wireline network access lines, 1.4 million Internet subscribers and 678,000 TELUS TV customers. Led since 2000 by President and CEO, Darren Entwistle, TELUS provides a wide range of communications products and services, including wireless, data, Internet protocol (IP), voice, television, entertainment and video.

In support of our philosophy to give where we live, TELUS, our team members and retirees have contributed more than $300 million to charitable and not-for-profit organizations and volunteered 4.8 million hours of service to local communities since 2000. Fourteen TELUS Community Boards lead TELUS' local philanthropic initiatives. TELUS was honoured to be named the most outstanding philanthropic corporation globally for 2010 by the Association of Fundraising Professionals, becoming the first Canadian company to receive this prestigious international recognition.

For more information about TELUS, please visit: telus.com.

About Samsung Electronics Canada
Samsung Electronics Canada offers a broad range of award-winning consumer electronics including televisions, smartphones, personal computers, printers, cameras, home appliances, medical devices, semiconductors and LED solutions. The Canadian arm, selected as one of Canada's Top 10 Marketers of the Year in 2012 by Marketing Magazine, upholds Samsung's global mission to open new possibilities for people everywhere, providing users premium experiences that are unparalleled due to Samsung's innovative technology and stylish design. As a result, Samsung has become a true leader in the consumer electronics industry both in terms of business leadership and brand strength. In 2012, Samsung was ranked #9 in the Interbrand "100 Best Global Brands" breaking the top ten for the first time, and was named as one of Fast Company's "50 Most Innovative Companies of 2011".

To discover more, please visit www.samsung.com[/toggle_simple]