Samsung is hailed by many as the king of the smartphone market. Indeed in some markets around the world, it really is. But this is not the case in China which is the most saturated and biggest smartphone market in the world. Although Samsung reported huge profits in Jan Q1 2017, even though its mobile division performed disappointingly, the processor division made all the gains.

Reports are stating that Samsung is fast losing share to local giants such as Huawei and Oppo. A report by a research firm called Counterpoint Technology states that Samsung smartphone sales have been cut to half in China this quarter. While companies like Huawei,  Vivo, and Oppo have had robust sales leading to a growing market share for the two companies.
More precisely Huawei's market share its increased to 19.7 percent making it the top player while Oppo occupies second spot wit a share of 17.5 percent, followed by Vivo at 17.1 percent.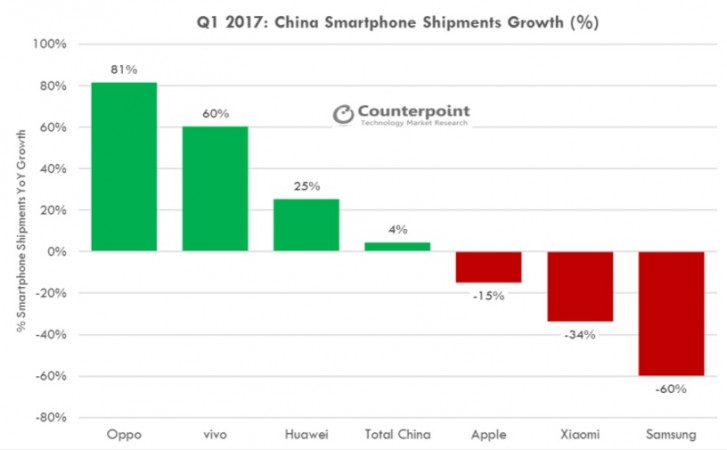 Talking of Sales numbers,  Samsung smartphone shipments fell by 60 percent. Its market share also eroded by 3.3 percent, now standing at 8.6 percent. At the same time shipments form Chnese brands Huawei, Oppo, and Vivo rose by a huge 81 percent, 60 percent and 25 percent, respectively.
The numbers speak for itself. It is no surprise that Huawei is the fastest growing brand in China followed by Oppo and Vivo.  Affordable price rates localized app services and well set distribution channels seem to be the driving force for the sales, according to industry experts.
The sales are also augmented by local habits and trends. Especially of the youth in china who prefer to buy smartphones online, says Jeon Byeong-seo, head of China Economy and Finance Research.
Also Read: Samsung Galaxy S7 and S7 Edge sales hit 55 Million
Chinese mainstream smartphone consumers in their 20s and 30s normally buy their phones online and put more value on app services, according to Jeon Byeong-seo, head of China Economy and Finance Research. This proves to be the Achilles heel for Samsung as the company relies more on expensive phones, local offline retail stores and don't provide proper localized app services.
Samsung, and even LG  also seem to be losing ground on the home appliances market as well. The global leaders in home appliances  have market shares of only 7 percent and 1.4 percent respectively in China compared to local players like hisense Sky worth and TCK.