Snapchat CEO reportedly said in its User Growth Meeting in the year 2015 that, "This app is only for rich people. I don't want to expand into poor countries like India and Spain." These allegations are made public by the ex-employee Anthony Pompliano in a Lawsuit against the Snapchat.
Anthony Pompliano was fired by Snapchat after three weeks of his joining. Coming to its Lawsuit with these allegations Pompliano's , filed in redacted form in L.A. Superior Court in January also tells some more malpractices in the company.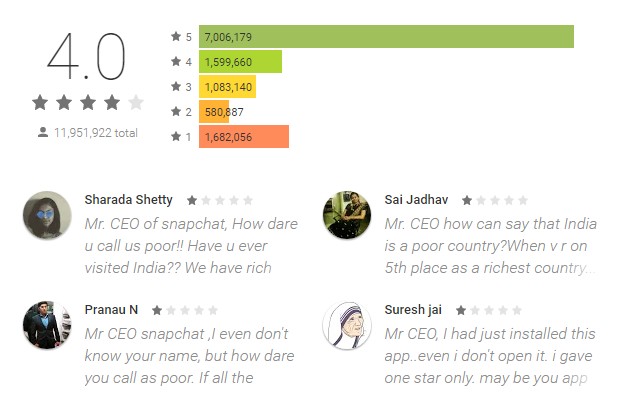 After this controversy popped up on Internet. Indian users are criticising the statement made by Evan Spiegel and are showing their protest by uninstalling the Snapchat App. Since then the ratings of Snapchat App is Dropping on Play Store and iOS App Store. Although, Snapchat has released their official statement denying the comments made by Snapchat CEO Evan Spiegel.
Read More: Snapchat crosses 500 Million Android installs
"This is ridiculous. Obviously Snapchat is for everyone! It's available worldwide to download for free."
We hope this matter settle down as early as possible. Otherwise it can lead to further hurdles for the Snapchat.
What are your views ? Share your views via comments below.