Smartphones have become an integral part of our day to day life. No matter whether it is personal or professional data, our devices have all it stored on its memory. This raise to the growing concern of our privacy or how secure the data is stored on our device. Since the Android devices are largely fragmented, the Android devices out there are different from each other by a large extent. Some are more secure while other highly vulnerable to attacks.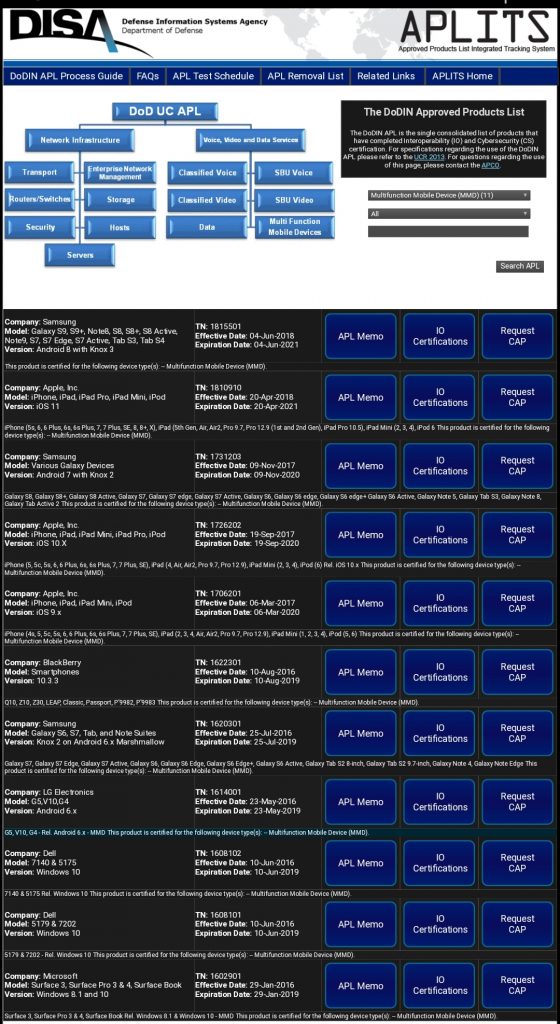 So, in case if you're concerned about the security, looking forward to get a device which is more secure and protected. Then, it'd be better for you to choose a device which is approved by the U.S. Department Of Defence (DoD) authority. Below, we've listed all the Android devices which have won the APL (Approved Products List) tag of the U.S. Military.
DoD approved Android devices
Samsung
Galaxy S7
Galaxy S7 Edge
Galaxy S7 Active
Galaxy S8
Galaxy S8+
Galaxy S8 Active
Galaxy Note8
Galaxy S9
Galaxy S9+
Galaxy Note9
Tab S3
Tab S4
Galaxy S6
Galaxy S6 edge
Galaxy S6 edge+
Galaxy S6 Active
Galaxy Note 5
Galaxy Tab S3
Galaxy Note 8
Galaxy Tab Active 2
LG
LG G5
LG V10
LG G4
Why DoD APL Certification is Elite?
Isn't the above list incomplete? You might be wondering as the devices from only two manufacturers were present in the list. It's not that the list is incomplete, but only these devices were approved by the U.S. DoD for the military purpose as they fulfill the strict security guidelines put forward by the certification authority.
Note that, while there are many mobile device makers on the market, only a few go through this process and even less are approved. Devices must demonstrate compliance with over one hundred unique requirements, ranging from encryption to intrusion detection to key exchange to support for secure network standards. Hence, it's not everyone's cup of tea to get approved by the U.S. Defence Department.
Interestingly, none of the Google devices made into the list. On the other hand, Android devices from LG and Samsung were approved thanks to their additional layer of security applied over the Android OS. Samsung Knox – the enterprise level security platform for the Samsung devices is worth honorable mention here. LG has its own security container protecting its Android devices from remote attacks.
That's said, what you think about the DoD certification for smartphones? Will you consider it as a must have for your device, do let us know in the comment sections.