Google introduced app shortcuts with Android 7.1. But only a handful of apps right now use the feature. As we see, adoption rate of the shortcut feature is quite low until now. The best example of this is WhatsApp which have just rolled out the shortcuts on its beta app. The Whatapp should have got the feature quite some time ago but 'late is better than never'. Now, WhatsApp seems to be bringing it, although with some reluctance.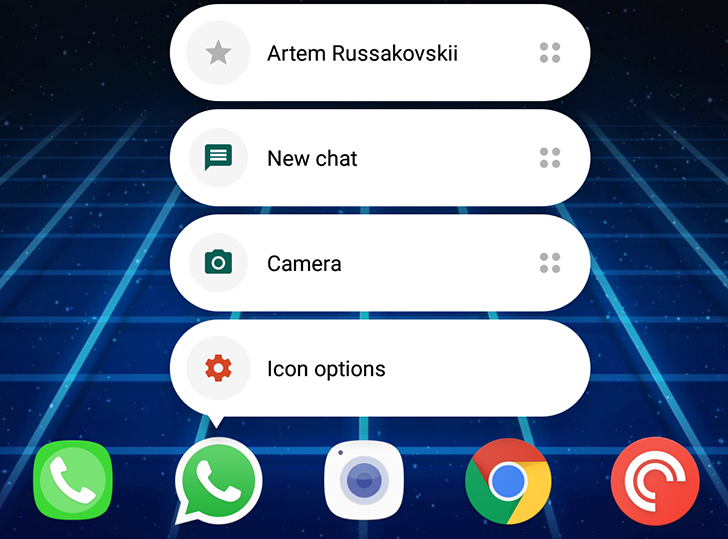 The app shortcuts are available in the beta version of Whatsapp. These Launcher shortcuts can be found in the latest beta build 2.17.277. Now, don't be too excited as the shortcuts themselves add little value. Well elaborating, the shortcuts don't get you to the most used stuff that they are supposed to come up with.
There are three shortcuts, the camera shortcut allows you into the new fad on WhatsApp. I mean the latest ripoff of Snapchat stories. However, if you are the kind of guy who uses that feature a lot, that shortcut is good enough. But still, I personally use the old school status.
The second shortcut is arguably even less used if we compare it with the camera shortcut. WhatsApp somehow thinks you are gonna keep talking with strangers all the time. So they've added the "New Chat" feature.
The last and the third one is of starred conversations. Consequently, this shortcut could have been very useful if it allowed pinned chats to appear. Right now, for some weird reason, they don't want you to see the profile image of your starred contact. Three starred contacts appear haphazardly with no regard for user preferences whatsoever. Well, so much for app shortcuts. We just hope WhatsApp make them useful with more additional shortcuts in upcoming updates.
Download Link: WhatsApp for Android