Currently, Indian smartphone market is dominated by Xiaomi cellphones, leaving behind all other brands- Apple, Samsung, LG, Oppo, etc. Xiaomi has flourished very fast over Asian countries and especially in India. Out of 3 smartphone users you will find that every 3rd user has a Xiaomi phone.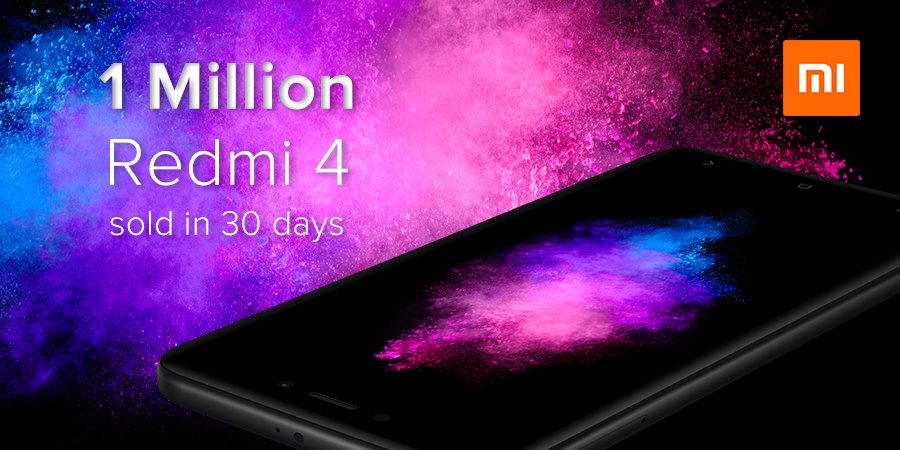 Xiaomi India's Managing Director Manu Jain has revealed on twitter about the sale of Redmi 4. It has been just 30 days since the sale of Xiaomi Redmi 4 had been started and already this company has sold over 1 million pieces of Redmi 4.
With every new release of Xiaomi product the units sold per sale period is getting increased and the no. of days is getting dwindled.
Xiaomi Redmi 4 is a budgeted phone which has all the attractive features of a high-end phone. Launched in India in mid-May, is the most sold out phone since then.
Features of Xiaomi Redmi 4
5 inch display
1080 pixel resolution
4100 mah battery
The 3 versions of Redmi 4 are: –
The base model with 2GB of RAM as well as 16GB of internal storage costing Rs. 6,999
Mid version with 3GB of RAM as well as 32GB of internal storage costing Rs. 8,999.
The top-most version with 4GB of RAM and 64GB of internal storage is yet to be announced by the end of June.