YouTube Go is now officially available in India. Before proceeding let us tell us you what is YouTube Go? Well, it is same as like of Youtube but you can preview a video before watching it. Even you can choose to watch or download the video. These all things happens in a data-conscious way. There are many more features like offline sharing of videos, you need no to have live internet connection. Full features are listed below.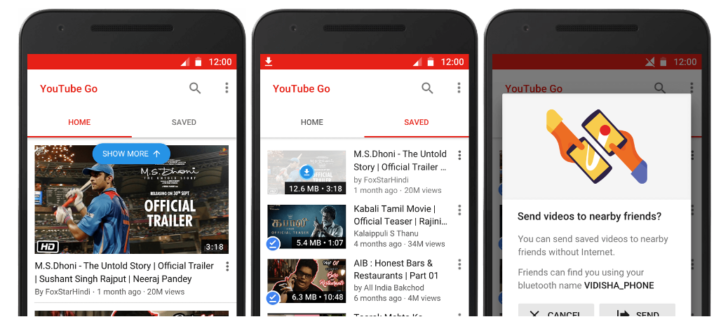 Coming back to the news, it was announced by Google last year for India but it was available for signup only. Today, Google has released the beta version of YouTube Go via Play Store. Now, the full fledged app is available from the Play Store. It was already available from third party websites but now users can officially use it by downloading from the Play Store.
A brand new app to download, enjoy and share videos…bina data udae!
Features of YouTube Go App:
Download and watch your favorite videos
Instantly share videos – no data used to transfer
Search for any video and discover new videos
Only 8.5MB app size
Control Your Data!

Choose to download or stream
Preview videos before you download or watch
Choose how many MBs you spend on videos

Share Videos Instantly!

Share with friends and family nearby
Video transfer uses no data

Download Videos!

Download videos to your phone or SD card
Play them without buffering

Super Fast! Less Phone Hang!

No more worrying about phone hanging
Download from the source link below.
Source: Play Store