The Asus Zenfone Max Pro M1 users continue to be in a state of confusion regarding the Android 10 update. The smartphone which got the beta version of Android 10 months back is yet to receive the stable version of the update. But now, reports say the Asus plans to finally bring the update in mid of June 2020.
Android 10 rollout: Will the wait be over finally?
Reports coming in from Twitter show a screenshot of the company's response through an e-mail. It says that Asus has postponed the Android 10 update for Asus Zenfone Max Pro M1(ZB601KL). Apparently, the reason for the delay is said to due to the test results not meeting the company's expectations. Asus apologized for the delay and said that it continued to check the test results of the firmware and will roll out the update soon. Considering the source, we will advise you to take this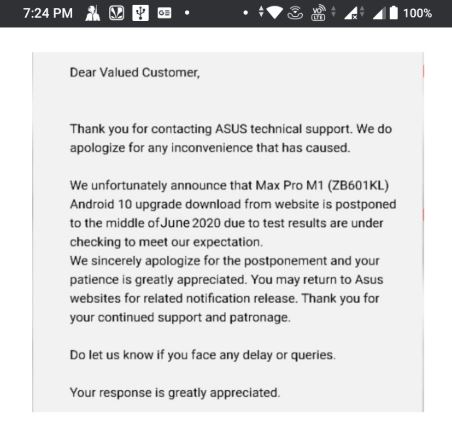 Zenfone Max Pro M1 update journey so far
If we recall, the two-year-old device is not lucky when it comes to getting the update on time. It received the Android 9 update months after the official launch from Google. Later, the device got the beta version of Android 10 early this year after a lot of requests from the users. Months passed away and there was no sign of update from the company whatsoever regarding the stable rollout, until now.
Asus is known for launching value for money devices but quite sluggish when it comes to updating their older devices. It has not explained the situation properly in the past further casting lot of doubts in users' minds.
Add to this, the company has been looking for excuses to the users for the last two months regarding Android 10 stable. The company earlier promised that the stable Android 10 update for the device will arrive sometime in May. Recently, the device got the latest May 2020 security patch and few rumors popped up that the update prepared for a stable rollout of Android 10 for the device.
The latest update from the company certainly hints at the arrival of stable Android 10 soon. However, if we look at the company's track record, nothing is certain until the notification pops up. Hence, users will have to wait a bit further to find out if Asus lives up to its response this time.