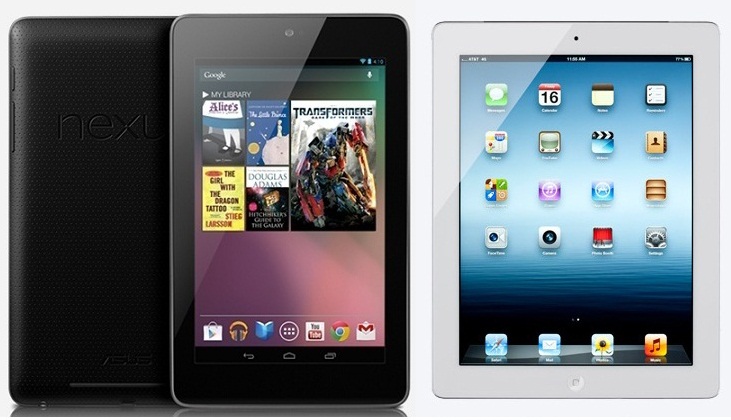 Here's the clash of titans. One is affordable other one other One is expensive, One rectify the feeling's of Middle Income Man and other one Flaunts it (According to Author not GoAndroid). But both features need to be rectified. So we are here with the comparison titled Google Nexus 7 Vs. Apple iPad 3.
[box_light]
Check out these also:
[/box_light]
Lets start with
Hardware:
First we take Nexus 7, Nexus 7's powerhouse consists  quad-core Tegra 3 processor to deliver smoother response and work. Nexus 7  is fueled by 1GB of on-board RAM. To process graphics it GPU have 12 cores which is much better than iPad. Its have 8 and 16 GB variants currently.
While on the other side Apple iPad 3 is controlled by self made 1GHz dual core Apple A5X processor on Apple's A5X chipset..The RAM share is same of 1 GB. Its available in 16, 32, 64 GB variants.
During testing we noticed the iPad start to stutter when we came to running resource-hungry games such as Infinity Blade II and Real Racing HD.
Design:
According to money we paid for Nexus 7 its build quality is awesome for its humble design and decent build quality. It gives competition to iPad3 pretty well. But iPad is made of top quality metals that's why its so costly. But  here's the question that do we play baseball with our tabs so that we need metal surface or tablets are vehicles which need metal surfaces to safeguard us during driving? Nexus 7 is easier to handle which leads to comfortability.
Nexus 7 have 3.5mm headset ports, speaker grills in the rear, microphones, and power/data connection ports. With the latter, we prefer the micorUSB port of the Nexus 7 over the proprietary 30-pin dock port of the iPad, because it's a universal standard.
Display:
This he only one topic where Apple iPad 3 puts off the Nexus 7. iPad 3features a 9.7-inch display which has a resolution of 1536×2048 pixel and pixel density of 264 ppi. Nexus 7 sports a 7-inch HD 1280×800 screen with a pixel density of only around 216 ppi.
So its completely Apple's way.
Size And Camera:
The Nexus 7 packs only a 1.2-megapixel front-facing camera that's accessible by specific apps. The iPad has front and rear cameras: a 0.3 megapixel one for FaceTime and an HD video camera for proper recording.
iPad 3 weight is 680g while nexus 7 weight stands at half of iPad at 340g. Dimensions are 7.31″ x 9.5″ x 0.37″ (Apple iPad) / 7.8″ x 4.72″ x 0.41″ (Google Nexus 7). In camera iPad lit up little bit but in size its behind Nexus 7.
Operating System:
This is the feature which make them rival against each other. So beginning with Nexus 7 its packed Android 4.1 Jelly bean and all its luxuries like project butter, Google Now and etc. On the other hand there is iOS which also intuitive, simple, and basically easier to learn for nearly everyone.
So guys both OS are good, great and excellent and it depend on user to user or buyer to buyer what he wants. But I will opt for Android obviously.
Other:
Nexus 7 is priced $199 (8GB) or $249 (16GB) with $25 of Play store credit, and the iPad is $499 to $699 for the Wi-Fi model and $629 to $829 for the Wi-Fi + Cellular models. The Nexus 7 won't be available in a 3G version just yet (Wi-Fi only), leaving the Apple iPad unchallenged in non-Wi-Fi terms. The new iPad has added 4G LTE support on networks like Verizon and AT&T. Both tabs don't support microsd card.
Although there is a huge price difference between the two, $500 for the iPad and $200 for the Nexus 7. Simply, if you prefer something smaller and less impactful on the wallet, the obvious choice for you is going to be Google's pride and joy. So guys buy according to your need.
You can also checkout :
Tablets Better Than iPad 3
Tablets Better Than iPad 3 [Updated]