Samsung Galaxy S10 is one of the best smartphones on the market right now. It comes with the latest and best in class hardware. It carries all the features you'd expect from a 2019 Samsung flagship device.
One of the features that have been a highlight of the Galaxy "S" series is the IP68 dust/waterproof resistance, and Samsung retained these features on the Galaxy S10 as well. Galaxy S10 is Water resistant up to 1.5 meters for 30 minutes making it safe from occasional splashes and a tiny amount of moisture. But to user's surprise, some Galaxy S10 handsets are showing up a "Moisture detected" error even when the phone has dried. The error is pretty serious as it can present a problem while charging up your device. In this post, we'll be taking a look at some of the ways to fix "Moisture detected" error on Galaxy S10.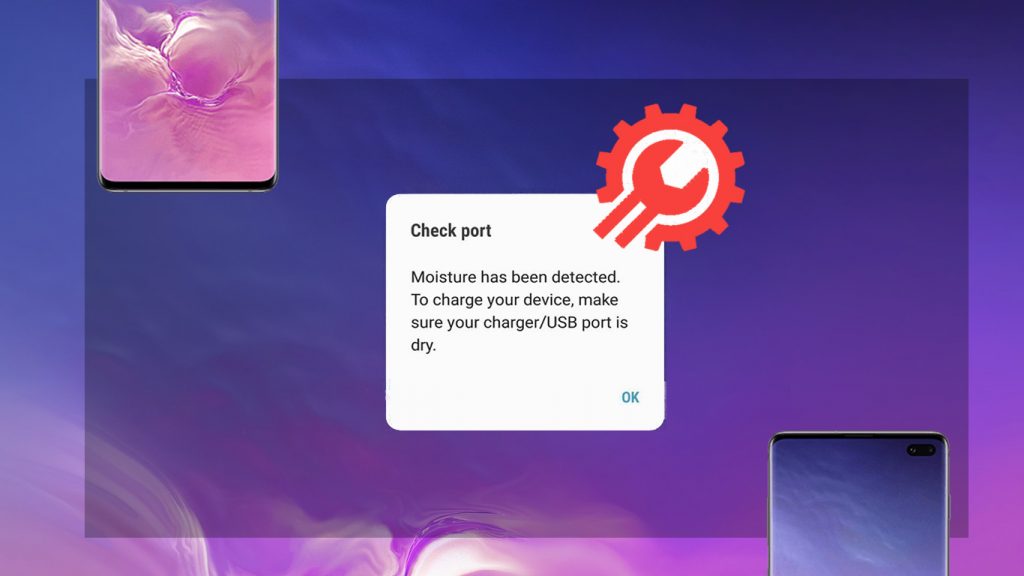 Steps to fix "Moisture detected" error on Galaxy S10
Switch off your phone and let the moisture dry off
The first and the foremost thing to do when you get the "Moisture detected" on Galaxy S10 is to power off the device and dry off the moisture.  Here are some of the steps you can follow to get some quick results.
To dry the moisture from the charger port of your device, let the phone sit on a dry surface upright for at least 10 minutes. ( Note – Makes sure its not under direct sunlight)
After, try to power on your Galaxy S10 and try charging it. If the phone starts charging, then it's all good. If not, don't worry, we'll take another approach.
Switch off the phone and grab a small piece of tissue paper. Now Carefully insert the tissue paper into the charger port.
Leave the tissue paper inside for 5 minutes or so to absorb the moisture.
This should be enough to fix the "Moisture detected" error in most cases. If the error persists, there might be a firmware issue. Here are a few steps on what to do in that case.
Troubleshoot the firmware to get rid of Galaxy S10 "Moisture detected" error
Another way to get rid of the Galaxy S10 "Moisture detected" error is to boot the phone into safe mode. We have already a detailed guide to boot Galaxy S10 into Safe Mode for your help. Here are the quick steps to get your Galaxy S10 in safe mode.
Switch off your Galaxy S10.
Now Press and hold the Power button till you get the "Samsung" logo screen.
When the Samsung logo appears on the screen, release the Power button.
After immediately releasing the Power button, press and hold the Volume down button.
Keep pressing the Volume down button until the device finishes rebooting.
When Safe mode appears on the bottom left corner of the screen, release the Volume down button.
Now with your Galaxy S10 in Safe Mode, plug-in the phone and try to charge the device. If there was a firmware issue or a buggy third-party app that caused this issue, it would be gone, and you'll be able to charge your device without any problems.
If the problem still exists, you can do onemore. Go to settings > Apps, Look for USB settings and open it, Tap on storage and wait for it to load. Clear data and then tap Ok. This should fix the issue in most of the cases.
If none of these methods works, You'll have to take the device to a Samsung service center and have it checked. You can also wirelessly charge your Galaxy S10 temporarily till this issue is fixed.
Troubleshoot Galaxy S10 errors:
How To Soft and Hard Reset Galaxy S10
How to mirror Samsung Galaxy S10 on Windows 10 PC
How to Enable/Disable Roaming on Samsung Galaxy S10
How to disable Auto-Replace and predictive text on Samsung Galaxy S10
Do let us know if you've experienced "Moisture Detected" error on your Galaxy S10 and how you got rid of it.