Are you an avid Android user? You might have faced the issue of 'screen overlay detected'; suddenly popping up on your device. It's the right place, as we will let you know its cause, and remedy to solve the issue in a very easy manner. Follow this guide to solve the screen overlay issue.
What is Screen Overlay?
It is a technical term when another app is drawn over the running app. This action on Android is used by various apps including Facebook Messenger's popular chat heads feature. Sometimes the overuse can lead to some problems.
Causes of 'Screen Overlay Detected' Issue
Most commonly the problem arises while using brightness control apps or apps using floating action buttons such as Facebook Messenger. Several third-party mods can also generate the screen overlay problem in several devices. The absence of permissions for some apps also leads to similar problems. It can appear with apps including Drupe Dialer, Twilight, and some other apps.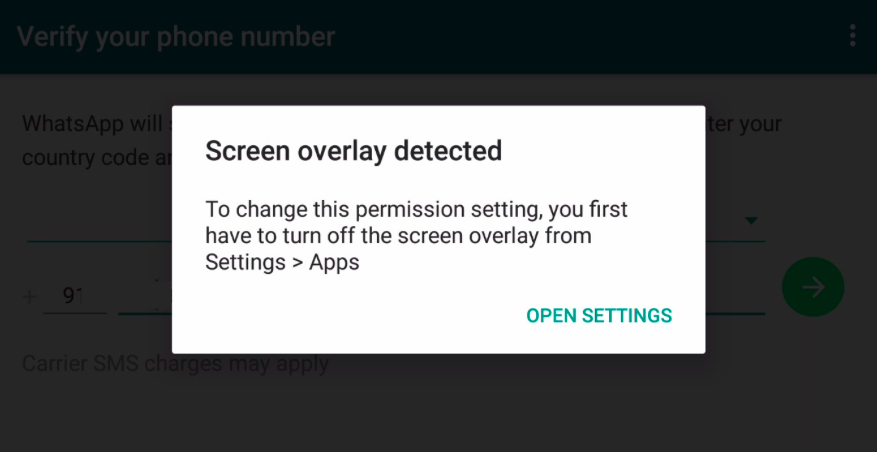 Step-By-Step Solutions
Method 1: Disable Overlay Permissions:
Find the apps which have access to 'Draw Over Other Apps' permission.
Open Settings and hover over to the search bar and type in 'Draw'
You will get an option stating 'Draw Over Other Apps' in search results.
A list of apps will appear with permission to draw over other apps using floating action buttons or screen overlays.
Now, disable permissions of the Apps that you most commonly use.
Make sure to uninstall Cleaner Master from your device or disable permissions temporarily.
Now check for the error, most probably it should have gone!
Method 2: Boot into Safe Mode:
If you are unable to fix the issue with the first method, we recommend you to boot your device into safe mode. When a smartphone boots into safe mode, only the system apps work after disabling other apps.
Hold the Power button and wait till a prompt occurs.
On the prompt, hold the button stating Power off.
It will ask if you want to boot into safe mode.
Click Yes, and wait till your device reboots.
After your device boots up, go to settings and search for draw
Click on the Draw Over Other Apps and enable the permissions for the apps you need.
We hope our guide fixing screen overlay detected issue on Android device worked for you. If you have any recommendation or any problem while executing the steps, let us know via comments below.