Google has announced its plans to bring several big AI improvements to the Google Lens during the Google Search On event. The new changes will reflect for Android, iOS, and Windows Operating Systems. Yes, you read it right; Google Lens will be available on devices other than smartphones. Google Lens was rolled out in 2017 on Android-running smartphones. The same succeeded the Google Goggles, which was an image recognition software. The material theme update to the Google Lens is the first step in bringing more developments. Here are the new changes which will come to Google lens;
Google Lens on Desktop

The most significant change to the Google Lens is the availability of desktops. It was spotted earlier when a user right-clicked an image. It was found because of an update from the server side. However, the same wasn't available to everyone. Now, Google will start pushing the update to every user in the upcoming months.
Lens Mode on iOS
Google will allow you to search the images in the iOS Google app through Google Lens. The new feature will be known as Lens Mode. What it does is that it will enable you to search pictures on websites which you browse in the iOS Google App. However, it is limited to the U.S, and Google didn't announce anything regarding global rollout.
Multitask Unified Model (MUM) enhancements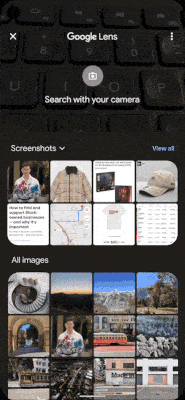 It was announced during the I/O event this year. It will understand information across a wide range of formats, like text, images, and video. And it can also get insights from and identify connections between concepts, topics, and ideas about the world around the user. Google shared an example where the Google lens was trying to find socks according to the pattern of a shirt. The rollout of MUM enhancements will begin in the upcoming months.