Google and LG today announced much awaited, much rumored and much better nexus, Nexus 4. So now all rumors meets an end and now all is crystal clear. The LG Nexus 4 is the first Nexus device built by LG, and the manufacturer partnered with Google to make an impression with its hardware.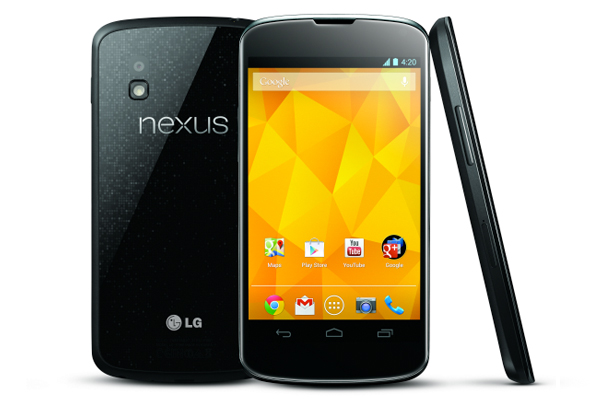 Andy Rubin, Senior Vice President of Mobile and Digital Content at Google said, "This is the first time we collaborated with LG to build a Nexus device, they brought an extraordinary amount of talent to the project, and the result is a feature-packed device that feels great in your hand, and blazingly fast under the hood."
The Nexus 4 features
4.7-inch True HD IPS+ touchscreen with a
Zerogap Touch
Corning Gorilla Glass 2
1.5 GHz quad-core processor
2GB of RAM
8GB or 16GB
Adreno 320 GPU
Android 4.2
The new Nexus 4 will start at just $299, and top out at $349 unlocked and off-contract, through the Google Play Store on November 13th.  Those in the US, UK, Canada, Germany, France, Spain and Australia can expect it on that date, while other regions will get it starting at the end of that month.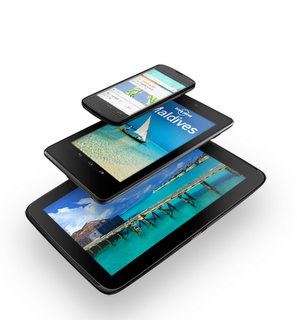 Again rumored and much awaited tab from Google is here. The
Nexus 10 Tablet features:
Nexus 10 is the highest resolution tablet on the planet with a 10.055″ display at 2560-by-1600 (300ppi), that's over 4 million pixels right in your hands. It comes with a powerful battery that will get you up to nine hours of video playback and more than 500 hours of standby time. Along with Android 4.2, you can add multiple users and switch between them instantly right from the lockscreen, etc.Its pricing is as below:16GB for $399; 32GB for $499; available on 11/13 in the Google Play Store in the U.S., U.K., Australia, France, Germany, Spain, Canada and Japan.So Nexus 4 is official now how many of you going to purchase it?
Nexus 7 32 GB and 16 GB is also officially confirmed for $199 and $249 respectively. It is available in the U.S., U.K., Australia, France, Germany, Spain, Canada and Japan, and also through our retail partners Gamestop, Office Depot, Office Max, Staples and Walmart.
Press Release:
LG AND GOOGLE ANNOUNCE NEXUS 4
Sleek, New Smartphone Combines LG's Best-in-Class Hardware with the Best of Google

SEOUL, Oct. 30, 2012 – Designed collaboratively by LG and Google, Nexus 4, the newest smartphone in the Nexus line-up from Google, was announced today for avail-ability starting next month in select markets. With a sophisticated hardware design from LG, your favorite Google Apps, and the latest version of Android™, Nexus 4 puts the best of Google in the palm of your hand.

"LG is proud and excited to play this role in helping build the latest Nexus smart-phone," said Dr. Jong-seok Park, President and CEO of LG Electronics Mobile Com-munications Company. "Users will be delighted by the perfectly balanced combination of form and function with the latest generation of Android."

"This is the first time we collaborated with LG to build a Nexus device," said Andy Ru-bin, Senior Vice President of Mobile and Digital Content at Google. "They brought an extraordinary amount of talent to the project, and the result is a feature-packed device that feels great in your hand, and blazingly fast under the hood."

Capture and share your world
Nexus 4 comes with a high-performance 8MP camera and takes stunning Photo Sphere images, letting you capture every detail of the world around you. Up, down and all around you, it's like no camera you've ever seen; with Nexus 4, you can snap pictures in every direction that come together into incredible, immersive Photo Spheres that put you right inside the scene. Plus, photos upload themselves with Instant Upload so you'll never lose a shot.

All of this comes to life with stunning clarity and crisp, natural color on the vibrant 1280-by-768 4.7-inch True HD IPS Plus display supported by Zerogap Touch technol-ogy. Gently curved glass edges allow your finger to slide smoothly on and off the 320ppi screen, while cutting edge display technology means you feel like you're touch-ing every pixel, protected by scratch resistant Corning? Gorilla? Glass 2.

Built for speed
Nexus 4 comes with a cutting-edge Qualcomm Snapdragon™ S4 Pro processor, so you've got speed and power to spare. Zip around the web, experience rich 3D graphics and gameplay, and effortlessly switch between multiple apps without ever missing a beat. With 2GB of RAM and the fastest version of Android ever, Nexus 4 is the snappi-est Nexus smartphone yet.

Information at your fingertips
Nexus 4 comes with the latest Google apps, putting the best of Google in the palm of your hand. The latest version of Google Now is built-in, which keeps you even more organized – get reminders about upcoming flights, restaurant reservations, hotel confir-mations and even nearby photo opportunities – when and where you need them.

Get to the places you care about quickly and easily with Google Maps™ for Android. With turn-by-turn GPS navigation, live traffic info, and integrated driving, walking and public transit directions, getting from A to B has never been easier. 3D Maps and rich satellite imagery give you a more realistic sense of what's around you while features like Street View and Indoor Maps make sure you always know what's in front of you.

Nexus 4 is sold unlocked and is GSM/HSPA+ compatible so it will operate on more than 200 network providers worldwide. Just pop in a supported SIM card and be up and running in no time. It will be available to purchase in both an 8GB version and a 16GB version on Google Play™ starting November 13 in the US, UK, Canada, Germany, France, Spain and Australia. Offline availability in Europe, Central/South Americas, Asia, CIS and the Middle East will begin from the end of November.

Key specifications
• Chipset: Qualcomm Snapdragon™ S4 Pro processor with 1.5GHz Quad-Core Krait CPUs
• Operating System: Android 4.2, Jelly Bean
• Network: 3G (WCDMA), HSPA+
• Display: 4.7-inch WXGA True HD IPS Plus (1280 x 768 pixels)
• Memory: 8GB / 16GB
• RAM: 2GB
• Camera: 8.0MP rear / 1.3MP HD front
• Battery: 2,100mAh Li-Polymer (embedded) / Talk time: 15.3 hours / Standby: 390 hours
• Size: 133.9 x 68.7 x 9.1mm
• Weight: 139g
• Other: Wireless charging, NFC