Last month at Google I/O 2021, Google revealed the new Android 12 with a new design language. Google calls it Material You, the new and modern materialistic design approach with rounded corners everywhere. So far the design has impressed many Android fans, it was a major UI change after 5 years. Now, Google is going to apply this design to its other apps also. Google Photos is going to be the first app to receive the Material You design with other apps in the line.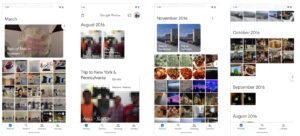 The Material You design is very neat and flat. It brings a materialistic look to the UI and rounded corners are present throughout the UI. The leaked images of the new Google Photos app also display the same design with some more changes. Now, the header text has become larger than the previous one. Also, when you zoom in and scroll through the image library, the date the current set of images was taken on is persistently shown on the top left.
The memories will be displayed in-line now and there is an overflow menu that is in the testing phase now. On tapping the overflow menu it will show a select button. It will also show the "view on map" option for images taken on a location on the same day. This option will open the location map.
Google Photos is the first app to receive the Material You design and rumors are that Google chrome would be the next one. Nothing about Chrome is confirmed now, but it will surely come in the future.