All the Android users know that the Google Weather app has not received any update for several years. The app always displays the Material design theme sinch 2014. But, with the new Android channel on the way, Google is also reforming its Weather app.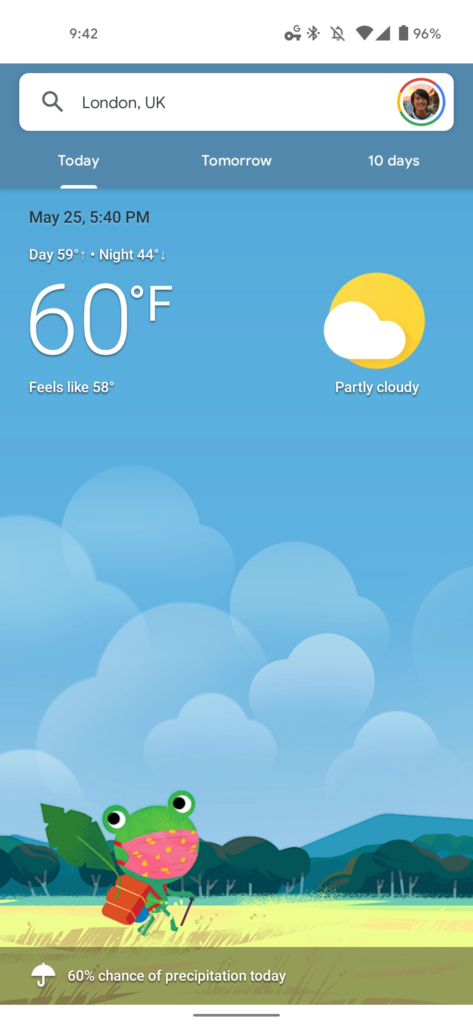 Talking about the update, it brings the app in coordination with the new Material Theme by Google, without changing the core functionality. The search bar can be seen with rounded corners and tab indicators are now upgraded. Let's take a look at the details.
With the rounded corners of the search bar, the Today, Tomorrow, and 10 days tabs are also refined. In fact, the other tabs which could be considered as not important are now prominent.
The navigation drawer is replaced by a profile avatar in the top-right corner. Tapping on the avatar dropdown menu with all the settings and an "Add to home screen" shortcut. In case you have multiple accounts logged in, tapping the Expand icon beside the current ID will help you switch the account.
Apart from these, there's one odd change. The status bar which displayed the current weather condition is now changed as well. In fact, there's now a stark white bar similar to the navigation and search bar. But, this is too bright especially when running in a dark mode. Hopefully, Google will be adjusting this in future updates.
However, the app is currently in the beta channel and contains some bugs. Tapping and searching for another city function doesn't properly load. This issue too will be probably be resolved with a stable rollout.