A rare new leak of the upcoming Pixel XL 2 (if it is named such) has popped up online. Brought to us exclusively by AndroidPolice, the leak presents a render of the upcoming flagship Google phone. But we can only see the front and the back. The source says the leak can be rated 8 out of 10 on their accuracy scale and the final design will be quite similar. But the handset is expected to launch in October and by then Google can change quite a few things. The device is purported to be made by LG, which has already developed many Nexus devices.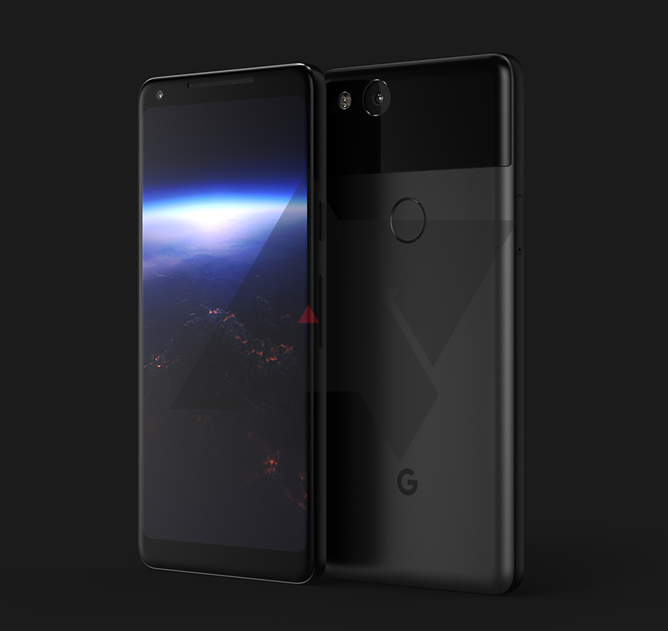 Looking at the render with a sigh of relief, we can see the phone has received a very welcome makeover. Last year's flagship was a beefy phone with unsightly useless bezels on the bottom. Even though it had its own selling points too. Looking at the front of the device, the trending all-screen design stakes its claim on the Google product as well.
Although, the screen is not curved on the sides. Well, LG is making the phone, then we wouldn't be surprised to see some LG G6 elements carried forward to this device. Curiously, a big speaker grill can be seen on the top of the device. This makes us think of the HTC 10 which had the same thing. But it wasn't anything as good as the Boomsound speakers.
Looking at the back, the upper glass has been cut short to half which allows the fingerprint sensor to be placed on a metal surface. Also, there are no antenna lines in sight. The camera at the back is placed on the top left side and it's a single sensor. The silver ring around the sensor indicates it might protrude a little bit from the surface.
All in all, Google has improved the design by a magnitude if this is the real thing. The phone is also rumored to come with squeeze sensors borrowed from HTC's stable.
We have also received similar renders earlier this month with dual cameras and dual LED flashes.