Apparently, LG G6 is coming at MWC 2017, Along with, LG Watch Sport is also expected to debut. LG Watch Sport is a new smartwatch which is expected to come with Android Wear 2.0. Yesterday, we have received news regarding the launch of Wear 2.0 on February 8th.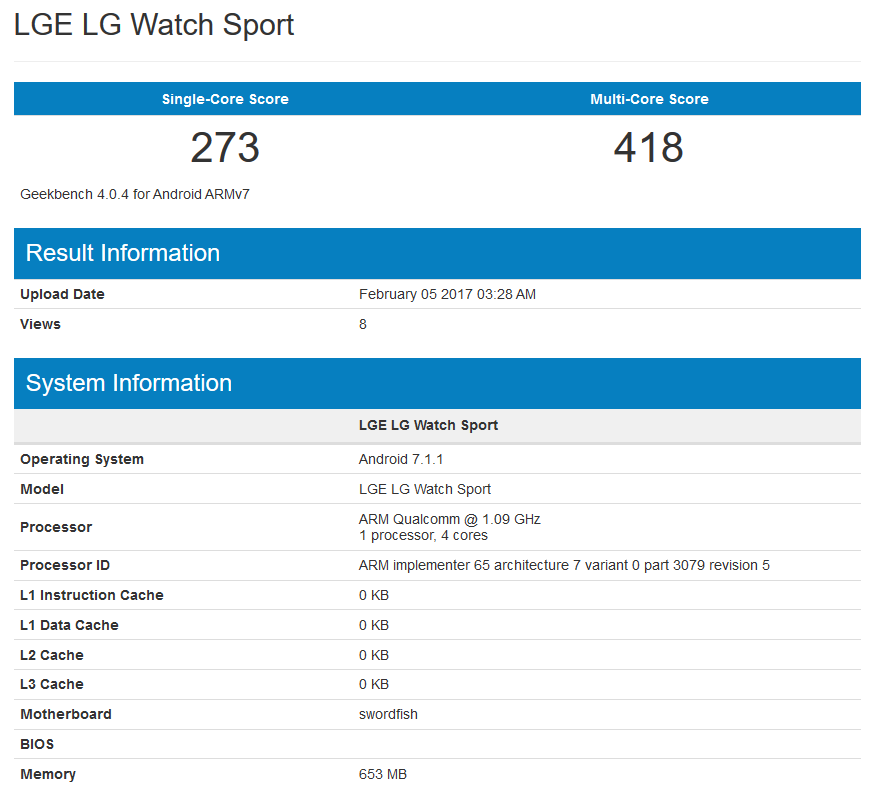 As we covered earlier that LG is coming with two new smartwatches, LG Watch Style and LG Watch Sport. LG Watch Sport has emerged as high end watch and the same has arrived on the Geekbench. The latter is LG Watch Style which is lower priced variant and rumored to be available for $249.
LG Watch Sport even packs a heart rate monitor, LTE (meaning that it will make and take calls without pairing with a smartphone), GPS and NFC.
Spotted on Geekbench, we got to know that it have a quad-core CPU with 768MB of RAM, and confirmed an earlier codename for the wearable of 'swordfish'. It packs a 1.38-inch display having 480 x 480 resolution. There's a 4GB of internal storage and a 430mAh battery. Software Wise it packs Android 7.1.1 which is said to be Android Wear 2.0. It scored 273 on single core test with a multi-core score of 418.
More information about the watch is awaited!!