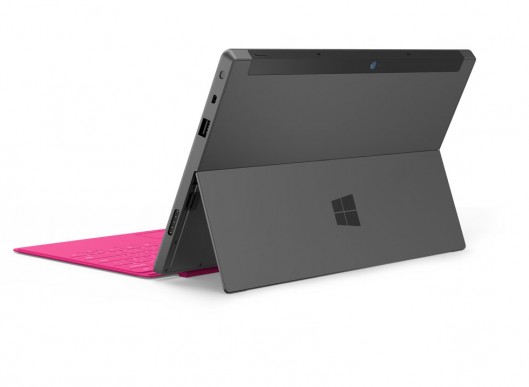 In order to tackle with Apple and Android Microsoft today announced Surface Tablet which will run on upcoming Windows 8. Microsoft its own line of Tablet's at press event in Los Angeles. The tablet will come in two version: one will run on Intel Chipset and another using ARM Holdings. Both will have a fold-out cover that becomes a keyboard.
Through Windows 8 Microsoft wants to gain space in tablet Market after its PC dominated Empire From Past few decades. Due to some bad marketing Microsoft is striking loses but they are saying that Windows 8 will change their company financially and competitively. Microsoft CEO Steve Ballmer said on Monday that the company [quote]"didn't want to leave anything uncovered"[/quote] as it rolled out Windows 8.
This Release will throw Microsoft in the tablet manufacturing race which is topped by Samsung running on Android and Apple. It has a 10.6 inch screen and comes in 32GB and 64GB memory sizes. The tablets whch will run on Intel Chips will be heavier and thicker but come in 64GB and 128GB models and will be released after three months of ARM powered Tablets release.