Samsung's upcoming smartphone, the Samsung Galaxy A7 2018 is one of the most expected mid range devices. Apart from the device announcement, there weren't much details revealed about the device. But today, the Samsung Galaxy A7 2018 has been spotted on GFXbench answering to everyone's question about the smart phone.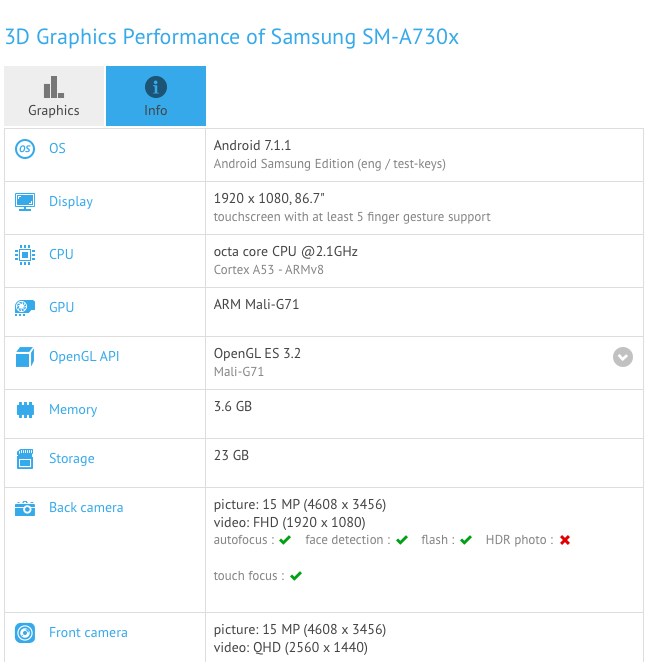 If the leaks are true, Galaxy A7 2018 will come pre installed with Android 7.1.1 and will have 4 GB of RAM with 32 GB of internal storage. The device will be powered by a 2.2 GHz octa core processor and it is expected to be Samsung's proprietary Exynos processor. Samsung commonly uses in its smart phones as opposed to the widely popular Snapdragon processors.
Other features like camera and display of the Samsung Galaxy A7 2018 appears to be the same as its predecessor. The device will sport a 16 megapixel camera both at the front and back and will feature a Full HD display. While there is not much improvement in this front, Samsung has clearly improved other specs of the device like RAM and processing power, which are better than the Galaxy A7 2017.
The design of the device has not been revealed yet. However, the model number of the Samsung Galaxy A7 2018 is said to be SM-A730x. Follow us for more updates on the device and let us know in the comments below your thoughts on the leaked specs of the Samsung Galaxy A7 2018.