Samsung has always been lazy when it comes to software updates. It was even worse for the budget and mid-range models. But things are changing with the new Android 11 based One UI 3.0. Its been with us for quite a while now, at least in the form of a beta. But guess what, the Samsung Galaxy M30s with Android 11 was spotted on Wi-Fi Alliance today.
The Galaxy M30s is a budget smartphone from Samsung. And now the device was spotted at the Wi-Fi Alliance with the Android 11. The device which goes by the model number M307F/DS is listed on Wi-Fi Alliance. The details reveal that the phone is running on Android version:11.0, or simply, Android 11.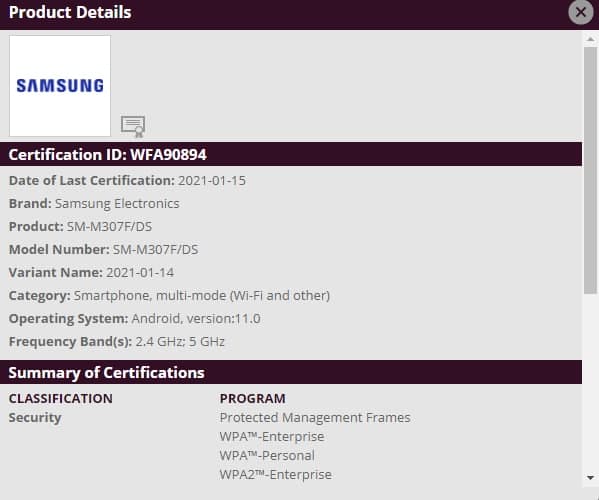 If you've been following us for the last couple of months, chances are you'd already know what Wi-Fi Alliance is, and if you don't. They're a non-profit organization that promotes Wi-Fi technology and certifies Wi-Fi products for some standards of interoperability.
M30s Android 11 Update
What's new
On the surface, the update doesn't bring anything huge. The update mainly focuses on improving functionality and ease of use of the overall device. The update includes the following.
Improved Notification Panel
Samsung like, Google focused on improving the Notification shade, and the results were unanimous. They added a new light grey colour (when not using dark mode) and new fade-in animation, this made the shade feel a lot smoother. They also removed some things like the power button, which made the shade less cluttered.
Fast access to widgets
The user can now long-press an application and tap on the Widgets button to see a list of available widgets. You can then add it to the home screen by simply tapping on it.
Tweaks for Always-on Display
Samsung claims that all Always-on Display widgets have been improved. Even though we couldn't see any improvements in the design, we believe they might've improved the AoD from an efficiency perspective.
Bigger Volume Controls
Yeah, you heard it right, they made the Volume controls a lot bigger. This might be a good thing because we use them often.
The list of improvements goes on, we don't need to discuss it, do we?. 
Based on the leak, we could say that Android 11 for the M30s is all set to launch, and all we need is the green flag from Samsung.
Samsung seems to be catching up with their rivals in the Software Update Realm, and that is a good thing, as we're sure that this would put a happy face for most fans.