Samsung has recently unveiled its super premium Galaxy Note 9 handset in the market. Along with being an expensive piece of tech, it is one of the best smartphones you can get right now on the planet. The device comes with a very capable hardware and offers top of the line performance. Some major specs of the device are same as that of the pre-existing Galaxy S9+. Today, some fresh information is there according to which Galaxy Note 9 is among the best camera phones. So without making any delay let's know more about it.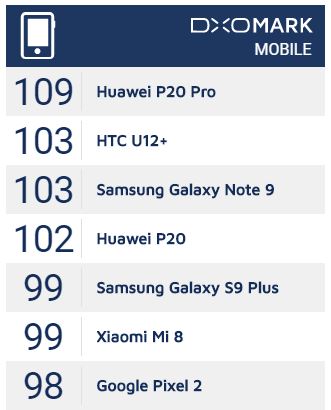 Recently DxOMark scores have confirmed the fact that Samsung's Galaxy Note 9 has a better performing camera when compared to the Galaxy S9+. Leading the list is Huawei's P20 Pro followed by the HTC U12+. In photo performance, Galaxy Note 9 has scored 107(Galaxy S9+ scores 104) and in video performance, its score is 94(Galaxy S9+ scores 91). In real time usage, not much difference is visible, however, here we can clearly see that Note 9 does pack a better hardware.
Compared to Galaxy S9+, Note 9 takes better images with less noise and great details. Variable aperture is available on both the devices and performance is very identical in low light. Autofocus on the device is also better and helps a lot while recording videos. Compared to a number of flagships the dynamic range of the Galaxy Note 9 is impressive and keeps the shadows and highlights in check. However, in overall Huawei P20 Pro is still leading the market outshining iPhone X, Note 9, Pixel 2 XL and more.
For more Android news stay tuned to GoAndroid.