The Samsung Galaxy S8+ is a Flagship device from Samsung and was launched last month in India. The 64 GB/128 GB variant of Samsung Galaxy S8+ came with a price tag of INR 75,000 (around $1,160). Here's a quick look at the model's listing on Samsung's India website with a price cut.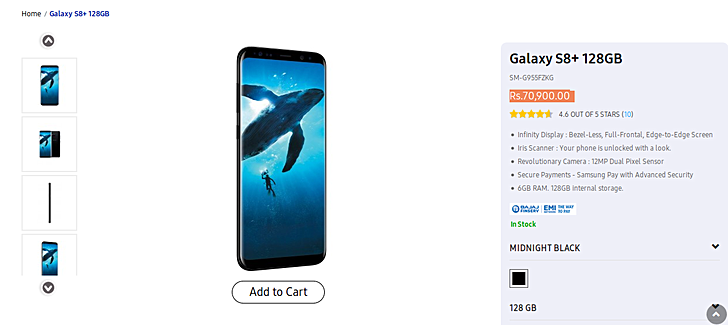 As you can see there are some changes in the price of the smartphone. Now, it has a price tag of Rs.64,900 (around $1,100). So, as compared to Old price, there is a straight discount around INR 4,000 (around $62). This is a good news for all the potential buyers who were thinking to buy it.
If you want to buy it then there's one clause that you have to follow. The discount is only applicable to only the black colour variant of the device. So, the users will have to shell out if more bucks if they want to buy the device in other color options.
There's one more good news for HDFC card holders as Samsung is offering additional Rs. 3000 cashback on it.
Availability
It is easily available on the Samsung's India Website. You can directly check, the link ahead to buy the device: Samsung Galaxy S8+ 128GB.