Samsung's collaboration with JUUN.J has come up with a limited-edition series of its latest smartphones and wearables. FYI, JUUN.J is a global fashion designer brand that is known for revamping classic colors and designs. Samsung JUUN.J limited edition series include Galaxy Z Flip 4, Galaxy Z Fold 4, Galaxy Buds 2 Pro, and the Galaxy Watch 5 series.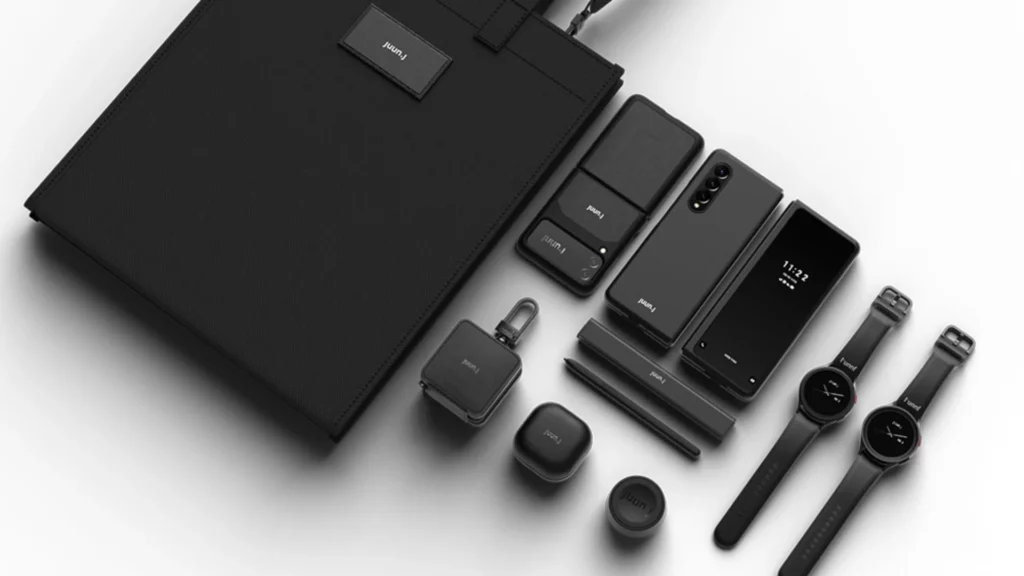 The exclusive products all come in black colors and packaging in South Korea. Although the specifications remain the same. Needless to say, there's a difference in price range as well. "The combination of Korea's leading smart devices and fashion has created a remarkable item for the whole world," says Jung Wook-jun, Creative Director of JUUN.J.
Galaxy Z Flip 4/ Fold 4
The Galaxy Z Flip 4 JUUN.J Edition is available in graphite color option costing ₩1473,000. Also, you get a JUUN.J leather case and a canvas multi-bag along with it. On the other hand, the Galaxy Z Fold 4 256GB edition arrives in Phantom Black variant and is priced at ₩2,198,700. The box ships with a JUUN.J leather case, a pen pouch, and a multi-bag.
Galaxy Watch 5 Series
The JUUN.J Edition of Galaxy Watch 5 series will retail in the Graphite color option. The 40mm model of the wearable is worth ₩369,000, while the 44mm cost ₩399,000. Whereas, the Galaxy Watch 5 Pro edition comes in Black Titanium color and is priced at ₩569,000. Along with the watch, you get a JUUN.J hybrid leather strap, a unique watch face, and a wireless charger.
Galaxy Buds 2 Pro
The Galaxy Buds 2 Pro JUUN.J Edition arrives in the Graphite shade. It is priced at ₩329,000 and bundled with a multi-purpose leather pouch.
Availability
The Samsung JUUN.J limited edition products can be bought from the brand's official website, Galaxy Campus stores, and Samsung C&T online mall. The devices will go on sale on September 23 from 10 AM.