Samsung provides a handful of Good Lock services to make your phone adapt to your choices. This includes Samsung Theme Park. In the latest development, the company is updating the app with some new features, UI improvements, and some bug fixes. Let's check out the build in detail.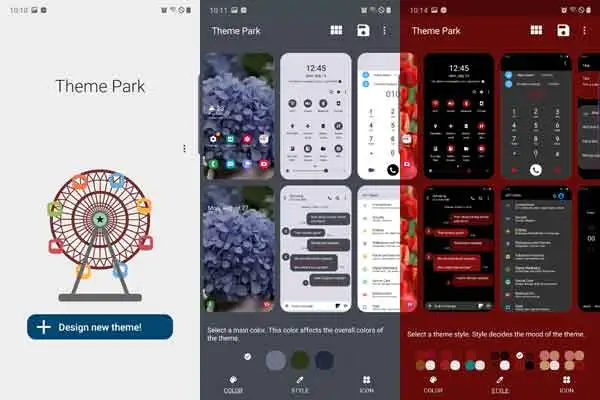 For the unawares, Theme Park is part of Samsung's Good Lock suite of customization apps. The platform allows you to customize every part of your smartphone. This includes changing the colors of your quick settings panel, icons, dialer color, settings colors, and much more. It extracts dominant colors from wallpaper and creates themes automatically for you. Also, you can see the final preview and personalize it accordingly.
The latest update for the Samsung Theme Park can be identified by the firmware version v1.0.09.32. Users across the globe can download the version from the button present at the bottom of the page. However, make sure that your device is running Android 9.0 or higher OS version.
As mentioned, the build resolves a handful of bugs, including color issues, icon pack function, color picker, and more. In addition, you can now change each app icons after flashing this update. Moreover, you get more options to select wallpapers. On top, it brings some tweaks to the UI as well.
What's New?
Support to change All Apps icon
Fix color picker to extract color from image
Fix FC that occurs when there are many installed apps during icon pack authoring
Fixed theme colors such as keyboards, galleries, and homes.
Fixed a bug in the icon pack function.
Fixed color issues in keyboard, calendar, and notification panel
Improved icon editing function (size, color, etc.)
Add features to change each app icon
More options to select a wallpaper
UI improvement and other errors correction
As always, the update is live and available to download via the Galaxy Play Store. Alternatively, you can tap on the button below and download the APK file for the same.