We are receiving the new models of Xiaomi Redmi 4 in the form of Redmi 4X, Redmi 4A, while company is busy building the successor of it. Xiaomi Redmi 5 is in works and soon Xiaomi is going to launch it with some new specs. Already, we have heard lots of rumors about the device but his new leak has verified those leaks.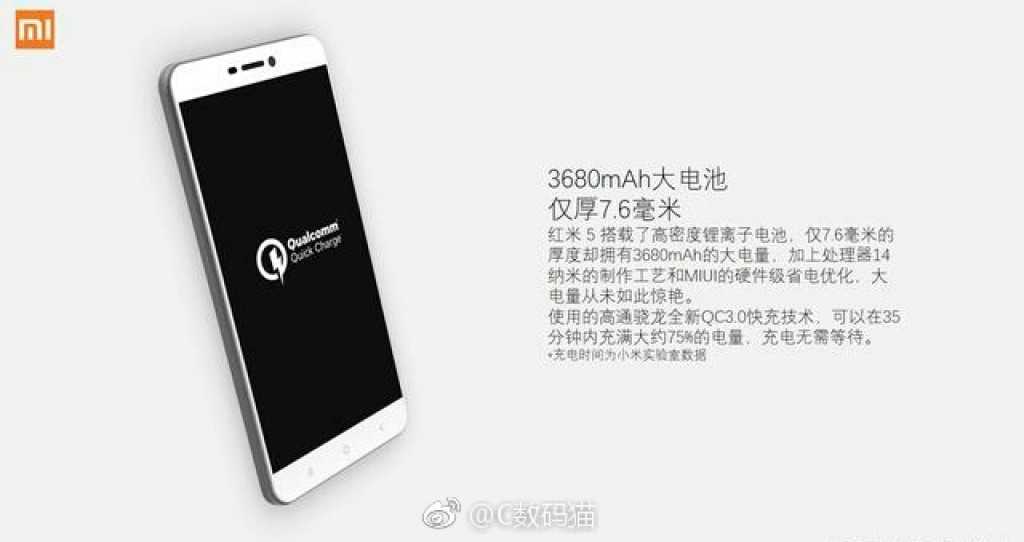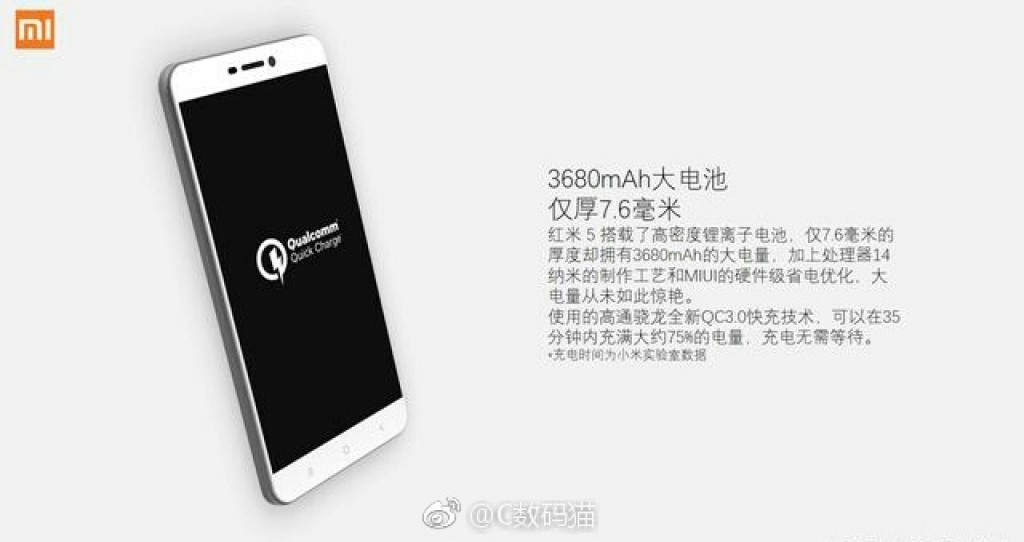 In a new leak of its official images, it is revealed that Xiaomi Redmi 5 is going to pack with Snapdragon 625 and Snapdragon 630 in different variants. There are going to be two different version for the Xiaomi Redmi 5 having different RAM configurations and processors.
Detailing, one of the variant will pack Snapdragon 625 with clocking speed of 3Ghz having 3GB of RAM. Other one will carry Snapdragon 630 with 4 GB of RAM with 2.2 Ghz of clocking speed.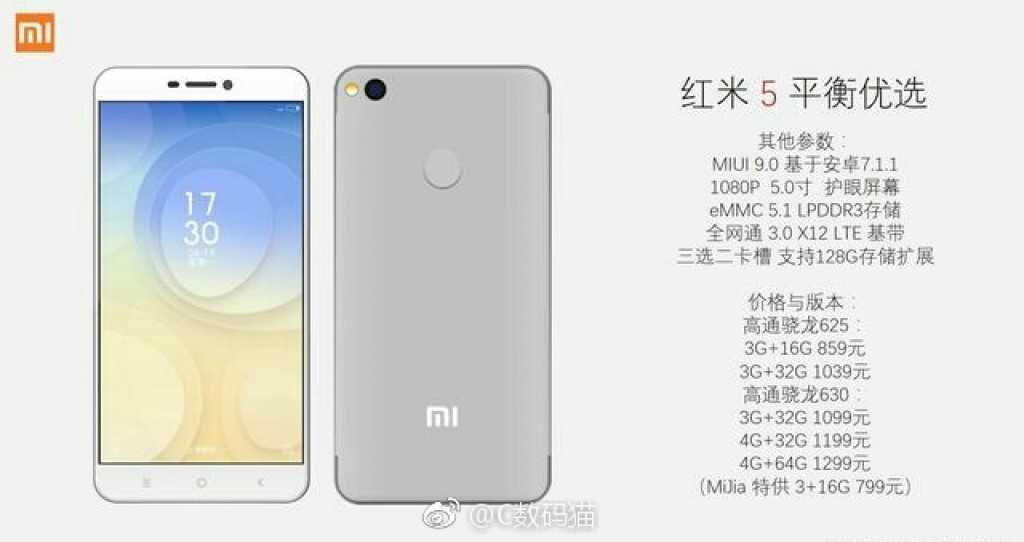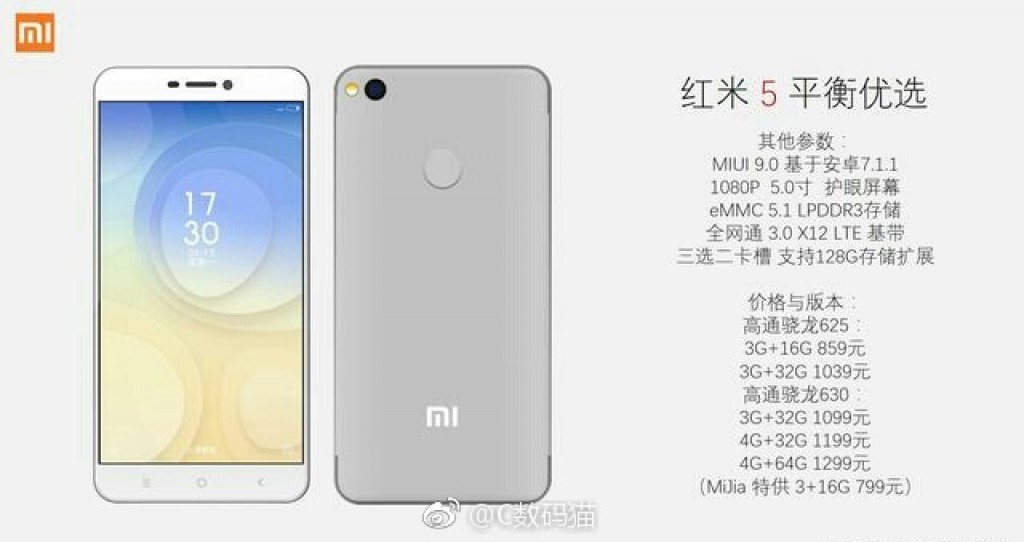 Further, there are going to be different storage volumes also, along with the different chipsets. The 3GB RAM variant will come with 16GB/32GB internal storage variant. The 4 GB variant will get 64 GB of internal storage with MicroSD card expansion with dual-SIM support.
Further, as per the image that have leaked, Redmi 5 will have 5 inch of display embedded over the hardware. In camera section, 16 MP primary camera is going to take place on the backside while 5 MP front will help you to take selfies.
Nowadays, everyone is waiting for MIUI 9, would be owners of the Redmi 5 will get it onboard from factory. Xiaomi has added less capacity battery of 3680 mAh in comparison with 4100 mAh of Redmi 4.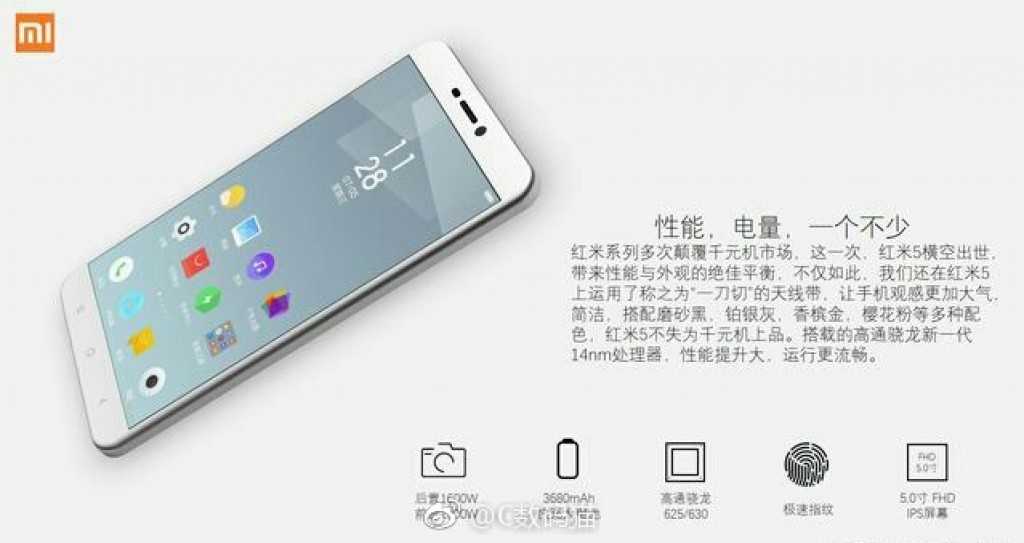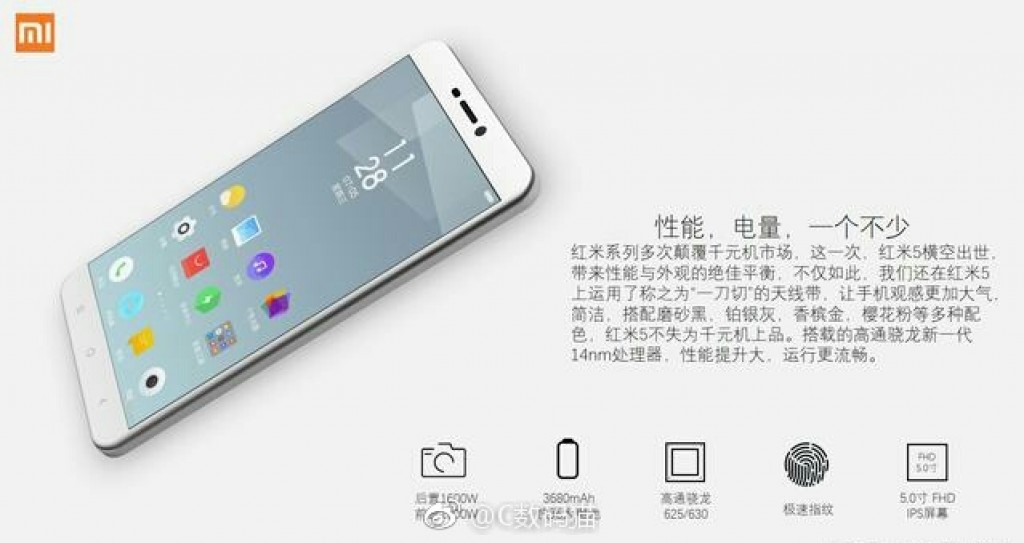 Pricing for the Xiaomi Redmi 5 has also revealed in the leak. Here is the full table of the pricing:
| | | | |
| --- | --- | --- | --- |
| Xiaomi Redmi 5 | CNY | USD (est) | EUR (est) |
| 3GB RAM / 16GB storage | 859 | $126 | €110 |
| 3GB RAM / 32GB storage | 1,039 | $153 | €134 |
| 4GB RAM / 64GB storage | 1,099 | $162 | €142 |
It seems that Xiaomi is producing another hit device with mid level specs available at low level price.
Whats'a your take on this? Share your views via comments below.