Chinese electronic giant, Xiaomi is very well known for its affordable smartphones all over the world. But very few know that Xiaomi also produces devices for home use such as air purifiers and lamps. Tomorrow, Xiaomi going to launch new lamp with motion sensor called Mi Night Lamp in China.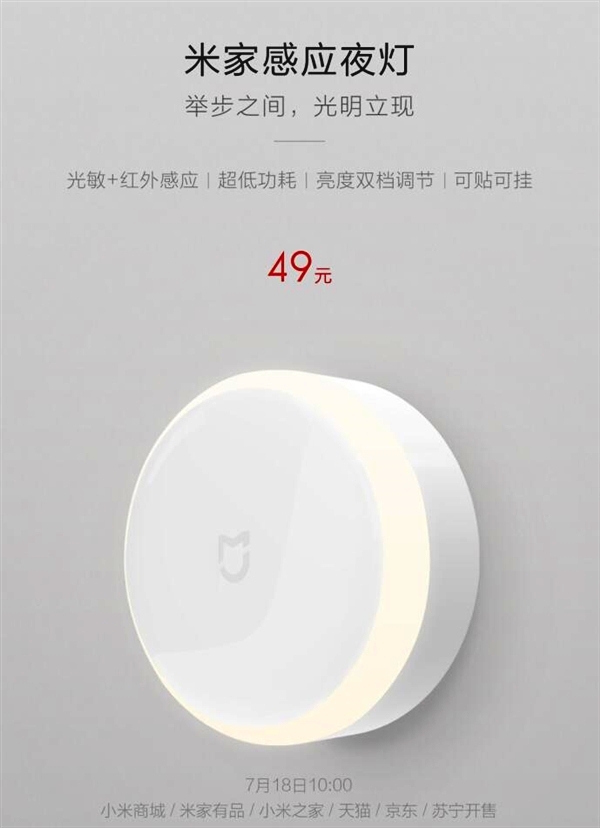 Mi Night Lamp is smart lamp from Xiaomi with motion sensor in it. So whenever it detects motion, it turns on. Xiaomi Mi Night Lamp is going to be very useful in areas such as washrooms. So whenever someone opens the door of washroom, the night lamp will automatically turn on.
The light will turn off after 15 seconds if no motion is detected. So this whole thing will save human efforts of turning on and off lights as well as it will save power.
Xiaomi Mi Night Lamp uses induction current. To detect the motion it uses photosensitive infrared dual induction technology. It emits white color light. One can hang the lamp on the wall or ceiling. It has 120 degree wide angle sensing range and sensing distance of up to 5-7 meters. Also one can adjust the brightness of the lamp.
The Mi Induction Night Lamp will be available on MIJIA 's Mi Home from tomorrow (July 18) at 10 AM and costs just 49 Yuan (~$7). We are not sure about lamp's availability outside China.