Asus Anounced its HiveSpot and HiveDot routers based on Mesh Network at CES 2017. The main feature of these routers is that, It eliminates wireless dead spots and reduces dropped connections for wireless devices while connected.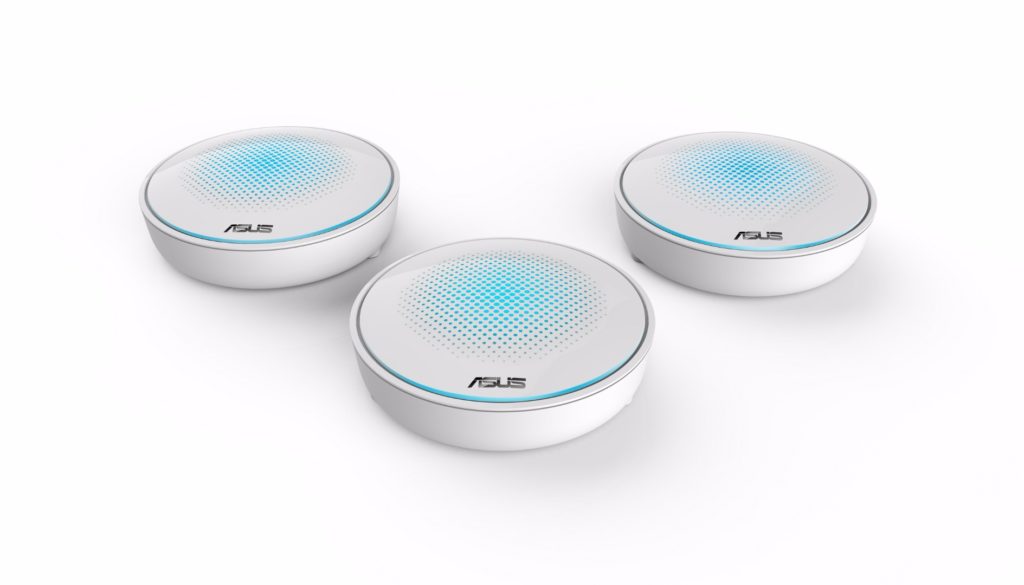 ASUS HiveSpot is a tri-band AC2134 router and more capable out of the two while HiveDot is a dual-band AC1300 router with comparatively lower speeds. ASUS HiveSpot is packed with seven smart antennas.It has two 2.3GHz bands along with a third 5GHz band for higher speeds with limited range. HiveSpot provides 867Mbps connection between its nodes on 5GHz Band.
Press Release–
ASUS HiveSpot & HiveDot Mesh Wi-Fi System is a modular, high-speed wireless mesh-networking system for the home that eliminates Wi-Fi dead spots and dropped connections. With the compact, stylish and easy-to-use ASUS HiveSpot or ASUS HiveDot mesh networking nodes, users can enjoy a single-sign-on Wi-Fi network with seamless and secure whole-home coverage. ASUS HiveSpot is a tri-band AC2134 Wi-Fi device while ASUS HiveDot is a dual-band AC1300 device.
An ASUS HiveSpot & HiveDot Mesh Wi-Fi System requires a minimum of three nodes, and up to five nodes can be used if needed. Any unit can act as either a router or a slave node: typically, one unit will be configured as a router — connected to the internet via the gigabit WAN port — and the others as slave nodes located throughout the home. Alternatively, one of the nodes can be connected directly to an existing router via a wired gigabit LAN connection. The slave nodes intelligently organize and extend the wireless network for seamless high-speed Wi-Fi connectivity throughout the home, without the performance and reliability problems often encountered with traditional router/repeater configurations.
HiveSpot incorporates seven smart antennas, enabling wide coverage for large homes and offices including multi-floor locations. Combined with ASUS AiRadar beamforming technology, which focuses Wi‑Fi signals towards the connected devices, HiveSpot provides a strong, stable wireless signal at all times. In addition to dual-band AC1300 Wi-Fi, HiveSpot has a third dedicated 5GHz frequency band for up to 867Mbps inter-node communications, ensuring outstanding performance and a whole home blanketed with Wi-Fi.
Installation and setup is easy via the ASUS Hive mobile app, and a Smart Family Insights function provides intelligent parental controls for monitoring and restricting web access. HiveSpot includes ASUS AiProtection, a commercial-grade network security suite powered by Trend Micro that detects, blocks and neutralizes security threats on home networks before they can reach connected devices.