FRP which stands for Factory Reset Protection is an important feature on phones running Android 5.0 Lollipop and above to avoid cyber crimes when a phone gets stolen or lost. On the other hand, it also becomes one's worst nightmare if the user forgets their account credentials. This is where FRP Hijacker by Hagard comes into play. This tool is exclusively developed for Samsung smartphones.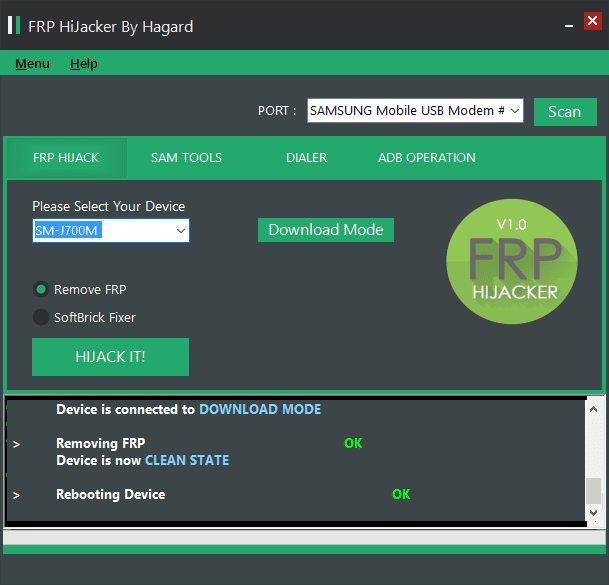 Smartphones get lost or stolen now and then around the world. Some criminals factory reset such devices and re-sell them, while others use them for illegal activities. To avoid such things, FRP (Factory Reset Protection) was introduced. This feature gets enabled by default when you add your Google account on your smartphone.
When a device with FRP enabled undergoes factory reset, the operator will have to enter the credentials of the Google account which was added in that phone. The device won't operate until the previously added Google account is verified. Thus, any unauthorized person cannot use the phone and commit any other crime.
You May Also Like
How to Install Flipfont on Samsung devices
How to Download and Install GB Whatsapp for PC
How to root Bluestacks 2 and 100% Working Method!

But, if you are a Samsung user who forgot their Google account password and also could not rest it, then FRP Hijacker tool is the way to go. Using the FRP Hijacker tool one can easily remove FRP on the supported Samsung devices. The FRP tool also comes with some additional features which are really useful at times. We have listed all the features of the tool below.
FRP HiJacker Features
Removes FRP (Factory Reset Protection)
Fixes soft brick
Bypass Google account using phone dialer
Enables ADB
Removes FRP via ADB
How to download and install FRP HiJacker
Download the FRP Hijacker tool zip file from this link.
Extract the zip file to the desired location on your computer.
Open the FRP Hijacker .exe file to use the tool.
If you have any doubt or query regarding the FRP Hijacker tool, then feel free to drop them in the comment section below.