If you are into rooting and all for a while then you may have heard the name of a custom ROM termed as Resurrection Remix. It is one of the best custom ROM available for Android devices. If you are new to custom ROM's then they are just tweaked Android operating system developed by third-party developers. Custom ROM's are very helpful for a person as they have a great scope of customization and at the same time, they allow a user to get some of the exceptional features for his/her smartphone. Resurrection Remix ROM is greatly inspired by the Stock Android experience offered by Google. Today we will know how to download and install Resurrection Remix Gapps on any smartphone. Download Resurrection Remix Gapps in the downloads center below.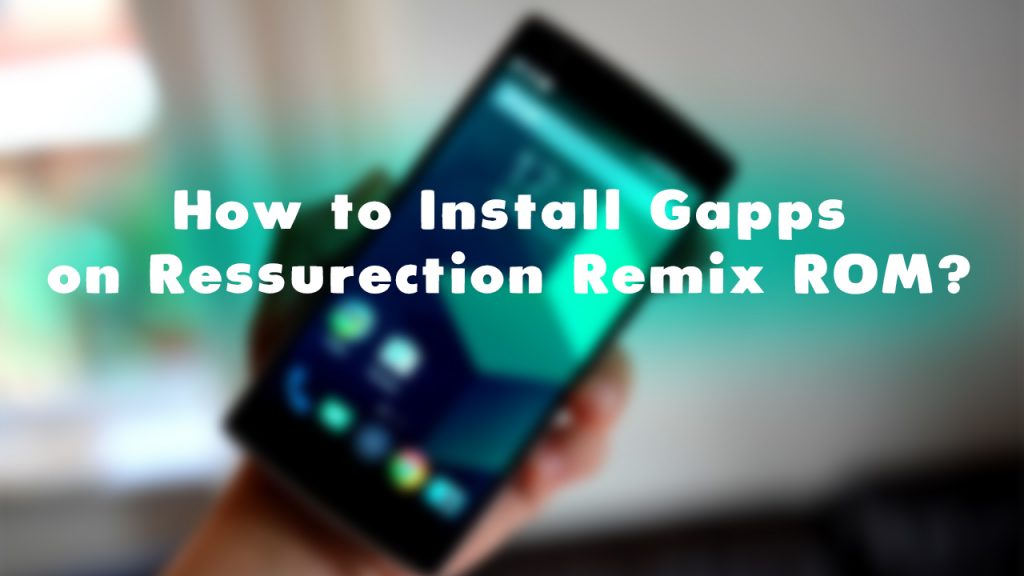 If you have ever used the Resurrection Remix ROM then you may be knowing that it deeply resembles us of the Pixel and Nexus devices. One major advantage of using a Nexus or Pixel device is that with them you won't get that extra bloatware. Similarly, with Resurrection Remix or any other AOSP ROM, a user gets pure Android experience free from any brand-specific application.
You might love to checkout:
Best Custom ROMs for Honor 8 based on Android Oreo/Nougat (2019)
How to install Resurrection Remix on Redmi Note 4
How to install Resurrection Remix on Moto G5 Plus
[Guide] How to install ViPER4Android on Android smartphones
Why Gapps are important on RR ROM ?
One major role in almost every custom ROM is played by the traditional Gapps a.k.a Google Apps. Android OS is incomplete without Gapps as they include essential apps like Gmail, Google Drive, Play Store, etc. Now the major problem that every person rooting a smartphone face is how to install Gapps on his/her smartphone. And specifically, we have seen a majority of questions from the users looking for how to install Gapps on Resurrection Remix ROM.
In this particular write-up, we will be telling you folks the best way to install Gapps on Resurrection Remix ROM based on Android Oreo. There are several Gapps file available on the internet, however, here we will be providing you the files that belong to trusted sources.
You might love to take a backup of Android device before proceeding for the Gapps. Also, you can install TWRP and get root permission either by SUperSU or Magisk Manager. If you own LG device then you need LG Flash Tool 2018.
By following the steps below you will be able to install Resurrection Remix Gapps on your device. You can download Resurrection Remix Gapps from the Download center at the bottom of the post.
Installation: Resurrection Remix Gapps on Android Oreo
1.) First, you guys need to download the Gapps file whose link has been dropped below.
2.) Now move that Gapps file in the external storage of your device.
3.) Switch off your device and boot into recovery mode.
4.) You should have TWRP recovery installed on your device otherwise we can't guarantee 100% success.
5.) Now click on the Install button and locate the Gapps file present in your device.
6.) Simply swipe right to install the Gapps file.
7.) It will hardly take a minute to complete the process so there is nothing to worry about.
8.) After successful installing it go to the main menu in TWRP recovery.
9.) Here select Wipe and now wipe cache and Dalvik cache.
10.) Just reboot your device and you're done.
Resurrection Remix Gapps Download
Download Resurrection Remix Gapps 
We hope this guide to install and download Resurrection Gapps will solve your purpose. If you have any queries you can sask us in the comments section below. There are many other Mods related Resurrection Remix which you can perform. We will let you know in the upcoming guides.
Best Guides you must have a look:
Top 5 Best Time Lapse apps for Android Smartphones (2018)
Best Free Substratum themes you should Consider in 2018 
Best Free Wallpapers for Android Smartphones (2018)
Best Android Phones with Qualcomm Snapdragon 630 Processor (2018)
Best Android Phones with Snapdragon 660 Soc
Stay Connected with the GoAndroid.