Google Docs may not be fully featured as Microsoft Word but it is a commendable word processor with all the essential features. It allows users to create and edit documents online while collaborating with other users in real-time. The latest news is that Google is sending an important Word 97 feature to the Docs where an image can be placed in front or behind a text.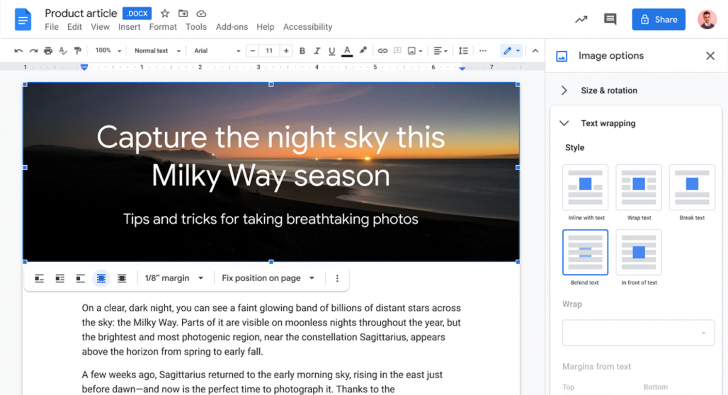 Google Docs is quite late to receive this text wrapping trait if compared to other word processors. But this update will make Google Docs more comparable to them. With this update, like MS Word, you will be able to change the position of the image within Google Docs. Just in case, if you are importing or exporting files from Microsoft Word, the formatting will remain the same.
"This functionality will allow users to more easily personalize their documents and share them with confidence, regardless of the program you use." Says Google
The feature is unfurling to both professional and personal account users today. As per the Google workspace update blog, it will take up to a couple of weeks to reach out to all users. To test the option, Click on the image and you will see a new option to position your picture above or below text in the image choices sidebar and in the image toolbar.