Google has been testing a new Valentine's Day feature since a while. As the official Valentine's Day has kicked-off today, it's the right time for Google to make it live. And, indeed it has gone live for all of the Google Duo users. The new Google Duo Valentine Day effect can be applied over the Video messages.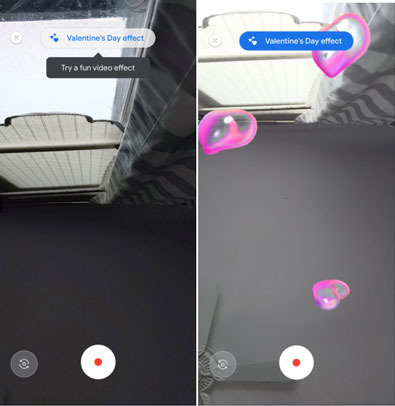 Google is notifying the Google Duo users about the addition of Valentine's Day effect. When opening the app, users will see a prompt at the bottom of the screen suggesting "Try a video effect for Valentine's Day,". Interested users can swipe down to record a message with the effect.
The effect is however kept simple as much as possible. It shows how Google is trying to keep the app devoid of bloats. Once activated, the effect shows heart-shaped pink bubbles moving across the screen. Users have the option to turn on and off the effect by pressing a button at the top of the screen marked "Valentine's Day effect." Moreover, it seems the effect is only available for video messages, not video chatting sadly.
Also Read: Google Duo group calling feature revealed, see how it looks!
In case if you'd like to make this Valentine's Day special with your Valentine who's unfortunately not near on this eve. Send him/her a video message with effects turned on. Well, it's recommended to keep your app up-to-date so that the feature is available.