A few years back, Google initiated the testing of a new operating system known as Fuchsia. The new open-source OS prioritizes security, updatability, and performance and is aimed towards a range of devices. Fuchsia has moved one step closer to actually fuel the devices, as Google Nest Hub arrives on Bluetooth SIG with "Fuchsia 1.0."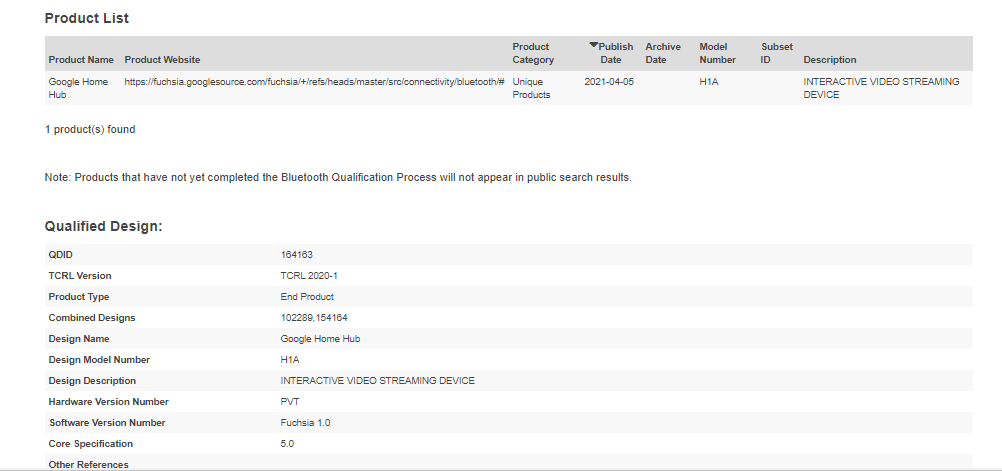 Keep in mind that, the device that appeared on Bluetooth SIG certification authority is not the "Nest Hub 2nd Gen" debuted this year. In fact, it is 2018 launched "Google Home Hub" which was later rebranded as "Google Nest Hub"
However, the Nest Hub runs the usual Cast platform, but as per the listing, it has a build version number "Fuchsia 1.0". That means the release cycle of the new operating system is underway and it could refer to the initial "M1" release. Or else, it could probably just be a placeholder.
For those unaware, this is not the first time that Fuchsia has made it to the Bluetooth SIG listing. In the mid-last year, a Bluetooth software stack, codenamed "Sapphire" was approved by the authority. As a matter of fact, the listing of the Nest Hub running Fuchsia includes a reference to that earlier Sapphire listing.
On the other hand, in spite of being under testing for a long period of time, Fuchsia will not be available for the general public or even developers. Google has examined powering the new OS on some devices including Google Pixelbook, Nest Hub, and Nest Hub Max. The search giant opened the project for contribution from the public to initiate the Fuchis'a release cycle.