After Samsung, Google has now begun sending the July 2021 Security Patch update to its Pixel devices. The lineup includes Pixel 3, Pixel 3 XL, Pixel 3a, Pixel 3a XL, Pixel 4, Pixel 4 XL, Pixel 4a, Pixel 4a 5G, and Pixel 5.
Google usually releases security updates to its Pixel devices on the first Monday of the month. But, due to the 4th of July weekend in its country, the updates have been delayed for some days. However, the new updates are here now.
Furthermore, the company has also released the July 2021 Android Security Bulletin. It provides the details for each of the security vulnerabilities that apply to the 2021-07-01 patch level. According to the bulletin, the new security patch dispatches vulnerabilities in Android components like Media Framework, Framework, and few others.
Forthcoming to the Pixel's bulletin, it incorporates several vulnerabilities ranging from high to critical. Apart from this, the pixel users are also receiving the VoLTE support "on certain networks" and fix for device certain conditions reboot issue. You will be undergoing every small change while using your smartphone. The firmware versions are as follows.
Pixel 3 (XL): RQ3A.210705.001

Pixel 3a (XL): RQ3A.210705.001

Pixel 4 (XL): RQ3A.210705.001

Pixel 4a: RQ3A.210705.001

Pixel 4a (5G): RQ3A.210705.001

Pixel 5: RQ3A.210705.001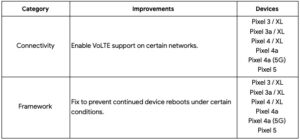 As always, Google is also sending the new security updates over the air. As a result, the pixel users will need to wait for the next few days to get the update. Likewise, users can also head to Settings>Software updates and check for the updates manually.