Motorola's special edition variant, Moto M is going to get a brand new packaging. The Moto M is the very first metal bodied mid range handset, launched by the Motorola company.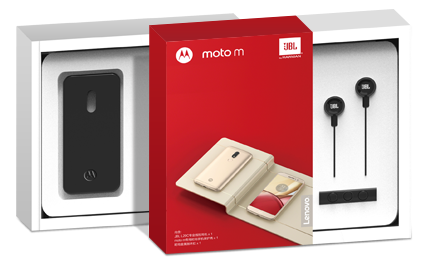 So, do you want to know more about the new packaging scheme of Moto M? Well, the company has added few more accessories with the Moto M handset. With the new Moto M you will get a pair of JBL headphones, with a labeled case for your handset.
There are some chances that Moto M can get launched as an Asian specific model too. Though, nothing is said about it in the news or by the leak sources. This can be taken as a piece of salt.
Moto M launched by Motorola in 2016, packs mid range specifications. It holds a 5.5" HD display, 3GB or 4GB RAM, 32GB or 64GB internal space, 16MP back camera, 8MP front camera and a battery of 3050mAh. The Moto M by Motorola runs on Android 6.0 Marshmallow.
According to the leaks, the special edition of the handset will only be available in China. The reason behind this strategy is that it was a big hit in China.