A Nokia device or would be Nokia 9 has passed through the FCC (Federal Communications Commission ) in the US. Now, with the certification, we are expecting it to soon hit the US in some upcoming weeks. Already, Nokia is now making Nokia 6, 5 and 3 available in other countries.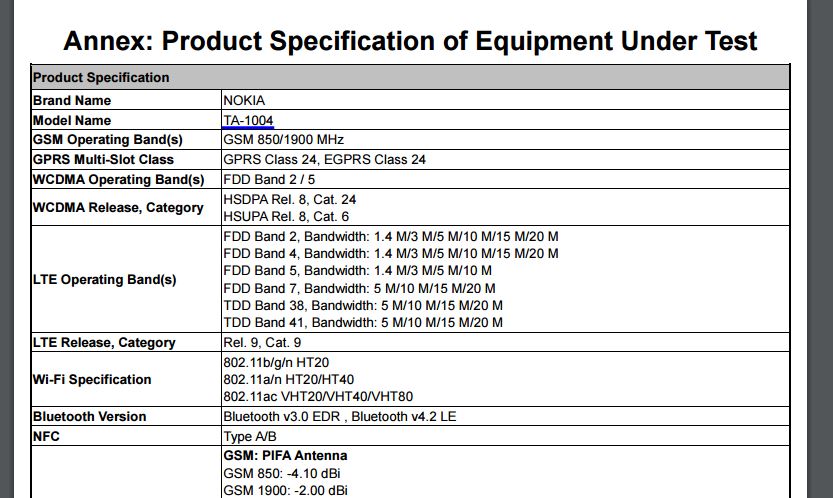 As far as the verifiability that it is Nokia 9, then we can say that all rumors states the same Model number TA-1004 which is used at FCC certifications. Further the listing confirms that the handset was designed in Finland and it support GSM and WCDMA bands with NFC, Bluetooth 4.2 on board. Recently, it also passed through Bluetooth certifications agency.
Further, if we evaluate old rumors and leaks, then it directly matches the filing. The collective specs of the Nokia 9 are Snapdragon 835, Qualcomm's 64-bit (SoC) with the Adreno 540 GPU. It is expected to run on 4GB of Memory with 32GB of internal flash memory. It will run Stock Android version 7.1.1 and have NFC, Bluetooth 4.2 on board.
Further, we expect 6GB RAM variant also as most of the new flagships are giving away 6 GB RAM by default. If the rumors are to be received, then it is coming within this or next month. Even, 8 GB RAM variant has also been leaked couple of weeks ago.
We hope that HMD starts preparing the Nokia 9 devices in bulk because if specs are true, then it is going to be a hit.
Additionally, for the time being you can see the test results of Geekbench benchmark, where it has topped the other devices.