OnePlus recently pulled wraps-off from the OnePlus 7T and OnePlus TV at an event in New Delhi. The company also announced several new services for the OnePlus users like OnePlus Connect, Gallery Cloud and OnePlus Pay. The new devices have paved the way for discounts on the old OnePlus 7 and 7 Pro smartphones.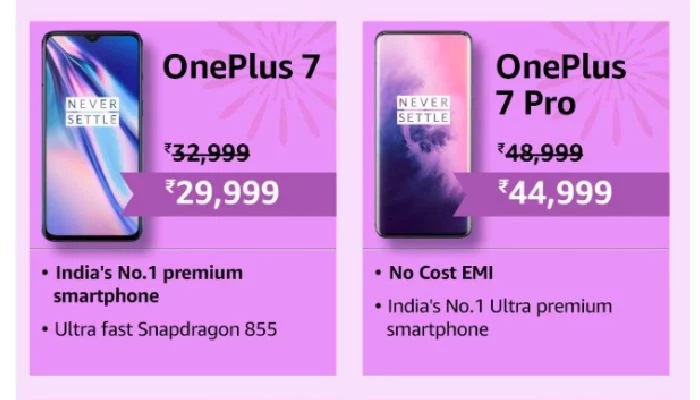 The Chinese company will be offering OnePlus 7 for Rs. 29,999 and OnePlus 7 Pro for Rs. 44,999. It is a hefty discount of Rs 3000 on OnePlus 7 and Rs 5000 on OnePlus 7 Pro. Both smartphones are available in different RAM and storage variants. However, the reduced price is only confirmed for the 8GB + 128GB storage variants. We have to wait for official confirmation from the OnePlus regarding other models.
Additionally, OnePlus 7 and 7 Pro carries Qualcomm Snapdragon 855 chipset coupled with respective 6.4-inch AMOLED display and 67-inch AMOLED display with notch-less design. The OnePlus 7 carries a dual 48-megapixel + 5-megapixel camera on the rear side and a 16-megapixel selfie camera on the front side.
The OnePlus 7 pro hosts a 3700 mAh battery with 20W fast charging whereas the OnePlus 7 Pro comes with a 4000 mAh battery with 30W fast charging.
Once again the new discounted price for OnePlus 7 and OnePlus 7 Pro is as follow.
Discounted OnePlus 7 and 7 Pro price for Amazon India sale
OnePlus 7 – Rs 32999 > Rs 29,999
OnePlus 7 Pro – Rs 48,999 > Rs 44,999
Related: Best Custom ROMs for OnePlus 7 Pro