Since the introduction of the OnePlus One smartphone in 2014, the company has extended its range of products. OnePlus works on multiple smart products including TVs, audio products, and watches. Now, the Chinese giant is working to prepare a OnePlus product in the tablet category. Reportedly, there's a new OnePlus Pad that made an appearance on the European Union Intellectual Property Office (EUIPO).
Though the OnePlus TAb is listed o the EUIPO trademark, there is still no official announcement by the brand. But, the listing suggests that the Pad could debut in the coming months. Let's take a brief look at the upcoming OnePlus Tab.
OnePlus Pad
OnePlus entering the new product category can be spotted on the European IP Office trademark. However, except for the device's moniker, the listing on the website does not reveal much about the tab. While the other key specs like size, design, processor, etc, and performance details are still under cover.
In the European IP Office, the OnePlus Pad is trademarked under Class 9. For the unawares, the Class 9 classification includes product categories such as tablets, computers, and PDAs.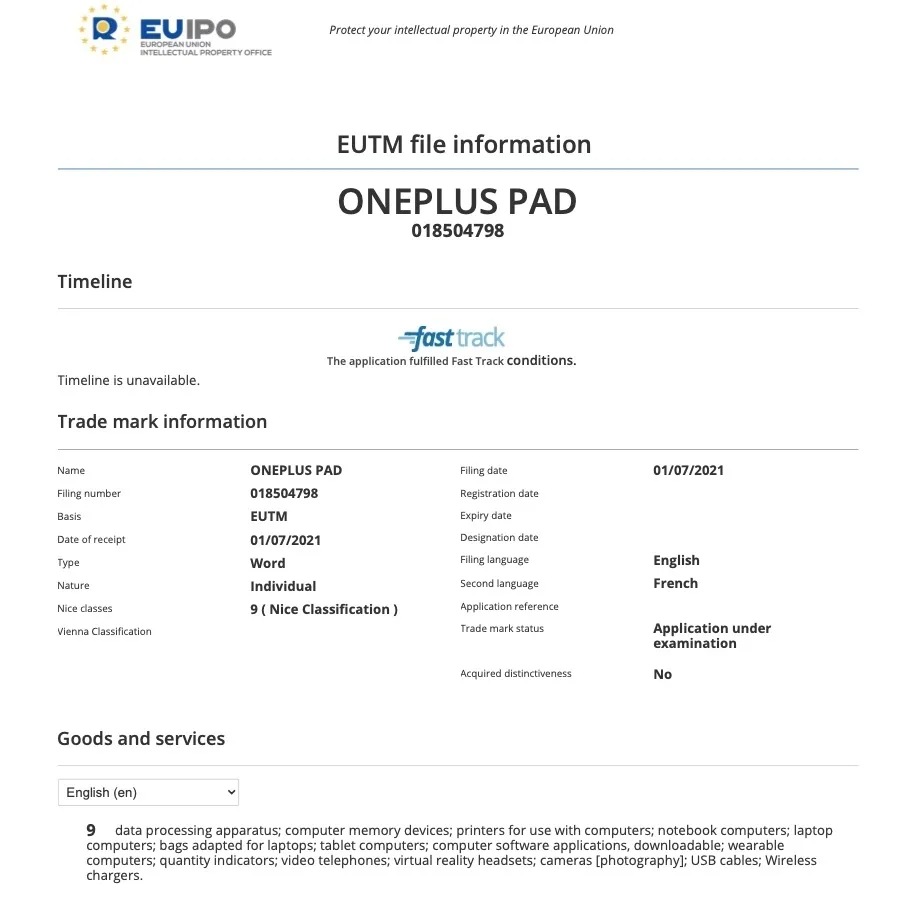 Now, that the device has made its initial appearance, we can expect more information to reveal out soon. Also, the company has not yet made any official announcement regarding the launch or working of a new product.
FYI, the other BBK owned companies like Realme, Vivo, etc. are also working to produce their version of a tablet. Recently, a Vivo registered a new Pad name on EUIPO Trademark. Whereas Realme has already confirmed that it is working to make its debut in the tablet category. Therefore, this OnePlus tab listing did not arrive as a catch-out.