Oppo has officially announced Android 10 based ColorOS 7 in November 2019, with initial support for Oppo devices in China. Later, it started rolling out in India for selected devices with a bunch of new features. Accordingly, Oppo has officially posted a list of devices that are going to Android 10 based ColorOS 7 in the month of July.
Coming to the release plan, the ColorOS 7 is already available on Find X Series as F.04 firmware version, C.09 for Reno 10x Zoom, C.24 for Reno, C.21 for Reno Z, C.25 for Reno2 and etc. However, we have mentioned the complete list below itself.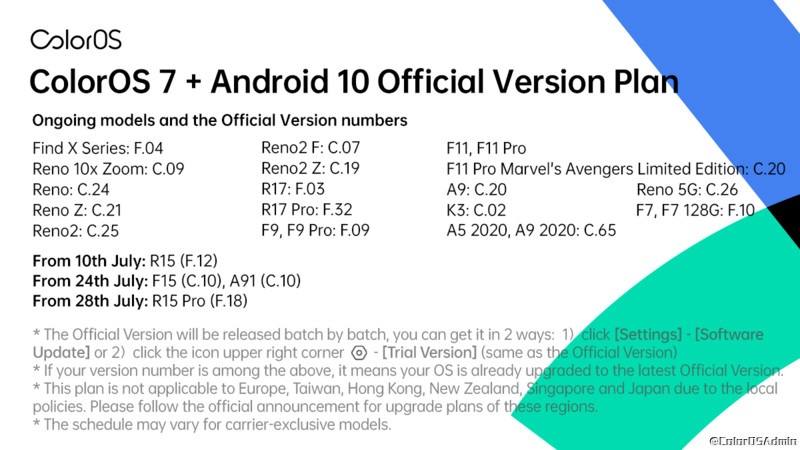 Apart from these devices, Oppo R15 is going to get the ColorOS 7 update on July 10 as an F.12 build number. Whereas, F15 and A91 will be getting the update on July 24 as the C.10 version number. Last but not least, ColorOS 7 for Oppo R15 Pro will be rolled out on 28th July as an F.18 firmware version.
ColorOS 7 update Roadmap
Devices getting the update by July
From 10th July
From 24th July
From 28th July
The updates for all the mentioned smartphones will be rolled sequentially according to the mentioned date.
Install Color OS7 Update in two ways:
You can head over to the Settings Software Update to get the stable update one released,
Tap the icon in the upper right corner of your Settings > Software Update panel to get the trial version.
Recently, Oppo rolled out the ColorOS 7 for many devices according to the June Roadmap. The list includes Oppo A5(2020), A9(2020) , A11 and many more devices that have got the update.
Stay connected with us for More!