Qualcomm seems to be more excited about the LG G6 launch. In a recent tweet they mentioned the LG G6 as a device which packs Dolby Vision and provide you feel of movie screen.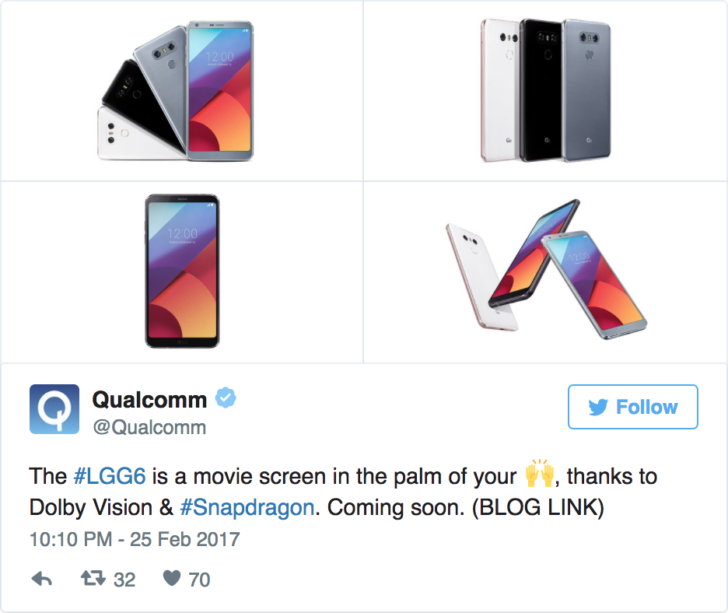 In a tweet, Qualcomm has confirmed many features of the device. Let's decode the tweet, in tweet qualcomm LG G6's capability of giving you a movie feel on the palm of your hand. It means LG G6 going to have G6's 2:1 screen ratio display which would be nicer to watch 2.35:1 ratio movies on the device (typically this ratio is used nowadays for cinemas). The BLOG LINK is referred to a link which is not yet live. Lastly it even touts Dolby Vision technology and a Snapdragon processor (hope to have Snapdragon 821 on board as said earlier) Here's what the actual tweet was:
The #LGG6is a movie screen in the palm of your hands(emoticon), thanks to Dolby Vision & Snapdragon. Coming soon. (Blog Link)
Even picture of the actual device was also there. It depicted three different colors of the device like black, a bluish-gray, and the white/pink combo (Rose Gold). In the pictures, we can see dual camera with dual led in between those cameras. There's also fingerprint scanner on the back of the LG G6. We can also see a bottom-mounted speaker, USB-C, the volume buttons on the left, and the nanoSIM/microSD tray on the right.
LG G6 Images:
As always, now that tweet has been deleted and you can access it via tweet archive sites.
Well, Only few hours are left for the launch. For the time being you can check our MWC 2017 coverage and also see what Blackberry has embedded in the KEYone.