Qualcomm finally took wraps off the latest flagship chipset which is already a hot talk in the market. Qualcomm unveiled the Snapdragon 8 Gen 3, offering premium-tier performance, and excellent power efficiency at Snapdragon Summit. The latest flagship chipset promises top-of-the-line performance and impressive power efficiency, solidifying its position as Qualcomm's most advanced premium SoC to date.
The latest flagship Snapdragon 8 Gen 3 chipset is the first mobile platform they have developed with generative AI features. In order to enable the experiences that customers demand, this platform offers studio-quality audio, console-defying gaming, industry-leading AI, chart-topping camera capabilities, and the fastest connection available worldwide.
MAKE SURE TO READ: Best Android 14 Features – Better Customization, Accessibility and User Experience
Qualcomm Snapdragon 8 Gen 3 Features
The processor, utilizing Qualcomm's Kryo CPU, operates at a maximum speed of 3.3 GHz, which is 20% more efficient and 30% faster than previous models. Built on 4nm processing technology, it consists of two 2.3 GHz Efficiency cores and five 3.2 GHz Performance cores. The Qualcomm Adreno GPU surpasses the GPU of the Snapdragon 8 Gen 2 SoC by 25% in terms of both speed and efficiency. Additionally, the chip supports dual Bluetooth and Wi-Fi 7, and is compatible with 5G networks.
Moreover, Popular large language models (LLMs) and other multi-modal generative AI models are supported by the SoC's AI engine. The Qualcomm Hexagon NPU promises performance gains of 40% and a 98% rate of speed. Additionally, the processor offers top-tier gaming performance with global lighting and hardware-accelerated ray tracing. On compatible panels, the processor claims to deliver gaming at 240 frames per second.
Numerous AI-powered new camera functions are also promised by the new processor. The chip has an Arcsoft Video Object Eraser that eliminates undesirable objects and persons from videos. With the help of Samsung's 200-megapixel Snapdragon-optimized image sensor, it also gains additional zoom features, including 2X and 4X magnification, multiple video capture, and object tracking. In addition to having Photo Expansion, which uses AI to enlarge photographs, it supports Dolby HDR.
The Snapdragon 8 Gen 3, like its predecessor, the Snapdragon 8 Gen 2, includes the Qualcomm FastConnect 7800 System, which supports various networks such as Wi-Fi 7 (802.11be, 802.11ax, 802.11ac, 802.11a/b/g/n) and Bluetooth 5.4. Additionally, the Snapdragon 8 Gen 3 features the Snapdragon X75 5G Modem-RF System, making it the world's first mobile platform with an integrated AI tensor hardware accelerator.
Talking about its capabilities, the chip supports UFS 4.0 storage, USB Version 3.1 Gen 2, USB Type-C, and 24-bit, 96 kHz lossless audio over Bluetooth.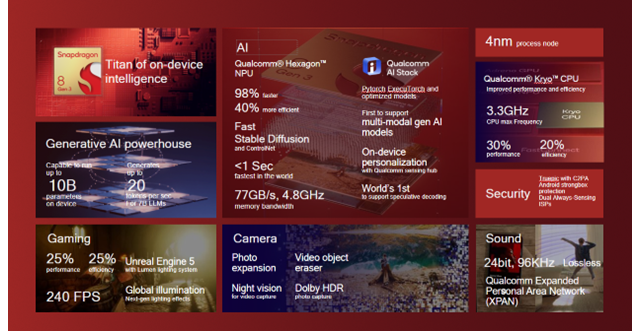 Snapdragon 8 Gen 3 Adoption
In the upcoming weeks, flagship Android smartphones running on the Snapdragon 8 Gen 3 are anticipated to be released. Qualcomm, the pioneer in premium Android smartphone chipsets, has announced that brands like iQOO, MEIZU, NIO, Nubia, OnePlus, OPPO, realme, Redmi, RedMagic, Sony, vivo, Xiaomi, and ZTE will be launching several flagship smartphones featuring this chipset throughout the world.