Reliance Jio after giving the free services to its users for almost 6 months. On 1st April they starts charging for their service and they comes up with a new Offer called Summer Surprise offer. In this Offer you can avail 3 months of Unlimited service by recharging for Rs. 303 or more only once.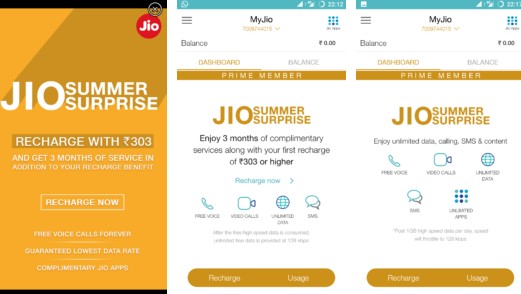 Now According to a statement from Reliance Jio Suggests that, Company is going to withdraw its Summer surprise offer on the advise of TRAI. Now if this thing happens you have to pay ₹303 per month from now onward to use the services. In summer surprise offer we calculate the amount of data we are getting for Rs. 303+ Rs 99= Rs 402 then it equals Rs 2.6 =1 GB. This Rs 2.6 even offer free unlimited calls and complimentary access to all Jio apps.
The official TRAI statement says "Under Jio Summer Surprise, all Jio Prime members making their first recharge payment of Rs 303 (or higher) plans got 3 months complimentary services in addition to the benefits of their purchased plan. Today, the Telecom Regulatory Authority of India (TRAI) has advised Jio to withdraw the 3 months complimentary benefits of Jio Summer Surprise."
Earlier Relaince Jio has given two offers in which users are availing the free unlimited services. First was Jio Welcome Offer and Happy New Year Offer.