Reliance Jio has now launched a new lucrative 100% cashback offer on its JioFi devices. JioFi device lets you share your SIM card data by setting up a WiFI hotspot. Basically, it is a hotspot device. The device can be used to make VOLTE calls even with 2G or 3G smartphones, and you can connect up to 10 devices to it.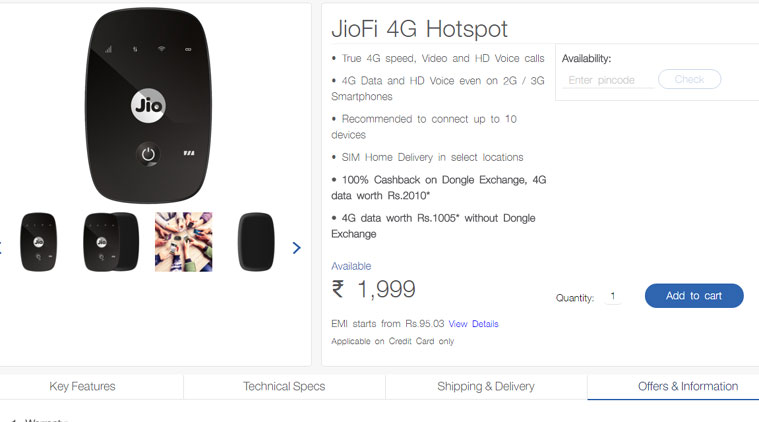 Under the terms and conditions of the offer if someone purchases a JioFi device and also exchanges their old router dongle or 4G card only then will they be able to receive 10 top-up vouchers worth Rs. 201 each. This means that the cashback is in the form of free vouchers worth Rs. 2010.
If you don't exchange anything in return for the JioFi device you will receive benefits worth only Rs 1005,
The 100% cashback offer can be found on the Jio website under the devices tab. The offer is valid until March 2018 and both for pre-paid and post-paid plans
The list of devices eligible for exchange includes dongles from Airtel, Idea, Vodafone, Tata, MTS, RCOM, Micromax, D-Link, Huawei, iBall, ZTE, Lava, Intex, Netgear, and BSNL. You cannot exchange old JioFi devices.
After purchasing a device and activating it, a minimum recharge of Rs. 408(99 Prime Memebership 309 for Dhan Dhana Dhan Offer) will have to be made. After this offer ends in 84 days the user will have to keep recharging the JioFi device with at least Rs. 149 recharge to avail the free RS. 201 top-up vouchers.
More details of the terms and conditions can be found on the Jio website under the devices tab.
Below is the procedure which the user has to go through as per Jio's official website.
Step 1: Customer buys JioFi on Jio.com
Step 2: Customer visits Jio Store with the original invoice, JioFi Box with or without Old Dongle
Step 3: Carry originals and copy of Proof of Address (POA), Proof of Identity (POI), and a passport size colour photograph. For availing Jio SIM through eKYC, carry your local Aadhaar card.
Step 4: Customers can return their old dongle at Jio Store. For a list of eligible dongles, please click here. Customers who don't have old dongle are eligible for an offer of 4G data worth Rs.1005 (in terms of 5 top-up vouchers worth Rs 201/- each).
Step 5: New Customers can recharge with Rs. 408 (309 + 99) or Rs. 608 (509 + 99) plan and enjoy the benefits of Jio Prime membership along with Jio Dhan Dhana Dhan offer
Step 6: Post Jio Dhan Dhana Dhan offer, the customer has to recharge with Min. Rs. 149/- & above
Step 7: Post expiry of Jio Dhan Dhana Dhan offer period, Customers who availed the Dongle exchange offer will get free 4G Data worth up to Rs. 2010/- (10 vouchers worth Rs. 201/- each). Customers will be entitled to 5GB 4G data worth Rs 201 top up with each recharge (up to 10 recharges) done before 31st Mar'18. For T&Cs on the exchange offer process, please click here
Post expiry of Jio Dhan Dhana Dhan offer period, other Customers who did not opt for the Dongle exchange offer will get free 4G Data worth up to Rs. 1005/- (5 vouchers worth Rs. 201/- top up). Customers will be entitled to 5GB 4G data worth Rs 201 top up with each recharge (up to 5 recharges) done before 31st Mar'18. For T&Cs on the process of Data offer without Dongle Exchange, please click here
Step 8: The offer is applicable to both pre-paid and postpaid plans. For more information on Jio Dhan Dhana Dhan offer, please refer click here