A new update for the Whatsapp has been rolling out on Google Play Store since a couple of days. The latest stable Whatsapp v2.18.380, unfortunately, come with no official changelog so as us to see what all new changes are on the table. However, now it seems Whatsapp has silently pushed the much coveted PiP feature on the latest stable update.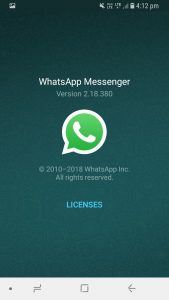 The Picture-in-Picture or commonly referred to as PiP mode may not be new for the Whatsapp beta users. Nonetheless, it's finally arrived on the stable build for everyone.
With the PiP available on stable Whatsapp, users can now play videos hosted on YouTube, Facebook, Instagram, and other supported streaming services within WhatsApp itself. When you send or receive a link to one of these services on WhatsApp, they'll now have an option to play the video in picture-in-picture mode. Simply, it gets rid of the hassle of redirecting to the respective app/webpage to play the video.
Since a while, Whatsapp has been trying to introduce as much as useful features to its app. It seems the dark mode is going to be the next major update that will hit the popular app in near future. However, whether or not Whatsapp will introduce ads on the Whatsapp Status is unclear and most of the users would prefer not to have such obstructive and unnecessary "feature".
Download
Whatsapp: Google Play Store