OnePlus 7 Pro is one of the most beautiful and powerful device you can get right now in the market. The device is popular for its clean, uninterrupted, 90Hz Fluid Dynamic display and quite a gorgeous design. OnePlus offers the device in multiple color options which are enthralling. Adding up its beauty, a brand new Almond Gold colored OnePlus 7 Pro has been launched in the U.S and China.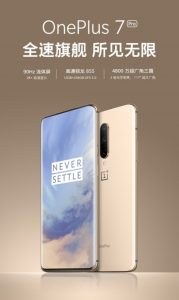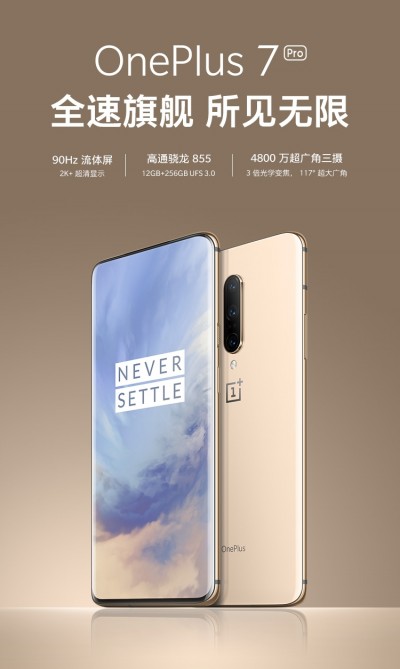 In case if you're wondering, the Almond Gold OnePlus 7 Pro is the same variant which OnePlus revealed during the launch. At that time the color option was referred to as Sand Gold color. Nonetheless, the Almond Gold is the finalized marketing jargon of the color.
The OnePlus 7 Pro Gold "Almond" color is already up for Sale in USA/Canada on company's official website. You have to go for the 8GB RAM and 256GB of internal storage, which is the only storage option for the hue. It is priced at $699 It uses the glossy finish same as the mirror gray model which is easy to hold in hands unlike the nebula blue, that comes with a matte finish.
While in China, the Almond Gold OnePlus 7 Pro is listed on OnePlus official China store and JD.COM costing 4,499 Yuan. Unlike in the U.S. which users can get hold of the device right now, the sale starts only on June 14 in China. Note that, the same variant was announced for India recently, and it'll be on-sale starting from June 14 itself.
It goes without saying, the rest of the internals remain the same. The OnePlus 7 Pro is powered by the latest Qualcomm Snapdragon 855. Giving tremendous boost in performance is the UFS 3.0 storage solution. The device also has a pop-up camera mechanism to pave the way for a full-screen display without notch or any sort of cut-outs.