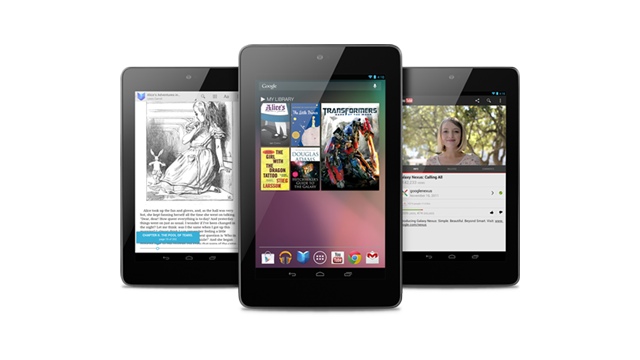 After loads of rumors now we have official news about Nexus tablet from Google and Asus as they revealed today at Google IO 2012.
It has a 7 inch 1280×800 display, Tegra 3 chipset, a front-facing camera, 9 hours of HD video (talk time in tablet speak) and 300 hours of standby time, WiFi, Bluetooth, and NFC. It's only 340 grams light so it's very easy to hold.
It also have 1.2-megapixel front camera IPS-based LCD are traits we'd normally look for in a pricier tablet. Google Priced it for just $199 for a dainty 8GB model and $249 for a 16GB version. There's no SD card slot.
You can read a book or magazine on your phone, and pick up where you left off on the tablet. They'll give you movie and TV show recommendations based on what you watch. Google also takes Maps indoors, with interior schematics and even photos, but the Nexus 7 tablet brings a new twist to that familiar nav experience with 360-degree venue photos.
Features:
7-inch 1280 x 800 HD resolution display
Tegra 3 quad-core 4-PLUS-1 processor, and 12 core GPU
Front facing camera — no rear
9 hours of of continuous video playback
340 grams
developing..
Earlier Google unveiled Jelly bean And also stated that Android passed 400 million activations.
Check out live stream. All coverage here.