Samsung recently started rolling out the stable OneUI 5.0 update after several Open Beta firmware for the Galaxy S22. The update is now rolling out to the Galaxy S22 series across the globe. There are several changes that are part of the latest update, including the new OneUI 5.0 camera that will uplift the photography and videography experience for the users.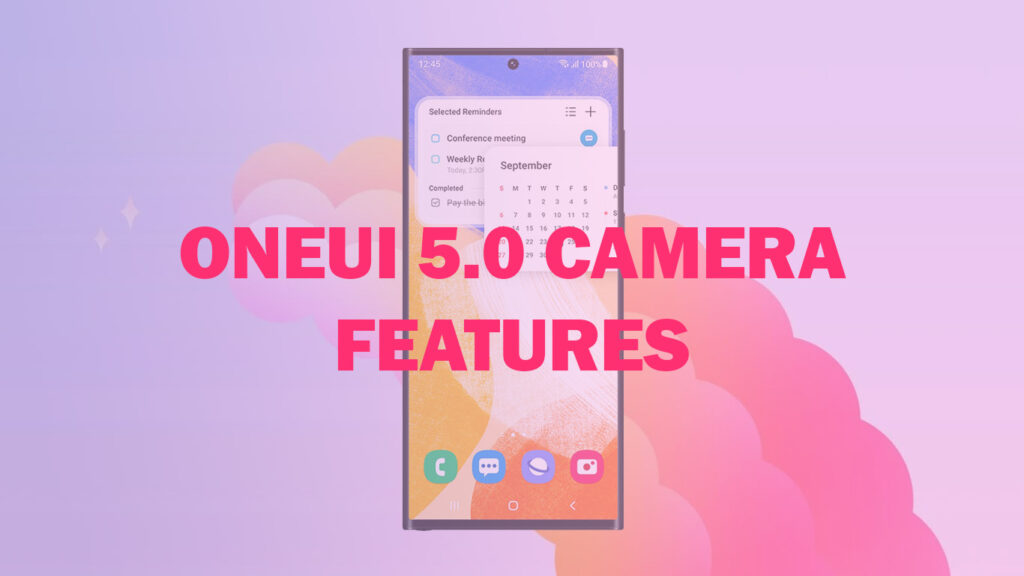 Must See: Official: Samsung OneUI 5.0 rollout schedule for Android 13
Some of the features we have already talked like the ability to add a watermark,  and Expert RAW. A plethora of new improvements and enhancements are now part of the latest OneUI 5.0 update:
Best OneUI 5.0 camera features
Camera Watermark
As revealed a while ago by us, a long-awaited feature which was only limited to entry-level and mid-range Galaxy smartphones is now available for all smartphones, including flagships. The Samsung Galaxy S22 recently received the feature via a stable OneUI 5.0 update.
Now, the flagship devices including Galaxy S21/S20/Note20, Z Fold4/Fold3/Fold2, Z Flip4/Flip3/Flip 5G/Flip support the Camera Watermark.
Telephoto Lens in Food Mode
Earlier, Food Mode only used the Primary lens of the camera, but on OneUI 5.0 camera, the user can even switch to a telephoto lens. However, this feature is compatible with Galaxy S21/S20/Note20, Z Fold4/Fold3 and Fold2.
The histogram in Pro Mode
A useful tool for the pro camera users will be accessible via the smartphone's Pro mode. The brightness distribution tool is accessible on the Galaxy S21/S20/Note20, Z Fold4/Fold3/Fold2, and Z Flip4/Flip3/Flip 5G/Flip.
Text Extraction
Some features are adopted from Google Lens and are directly integrated into the default camera app on Samsung smartphones. The users can now directly extract text from photos with a single tap.
Improved Filter, and Zooming capabilities
OneUI 5.0 Camera app brings new filter and zooming capabilities for Samsung smartphones. The Zoom and Improved filters are easily accessible for users now.
Optimized Camera Performance and UI
Samsung Camera app now performs exceptionally well in comparison with one on OneUI 4.1. Samsung even optimized the picture-taking time which is reduced from20 seconds to 15 seconds.
Camera Assistant and Expert Raw
The new Camera Assitant Mod via the Good Lock app will help users to tweak the default camera settings for Photo (Auto) mode. The users will be able to adjust metrics like aperture, focus, and other metrics as per need.
Expert Raw camera app seems to feature direct integration in Camera's Pro Mode. However, the users in near future could also get Pro Mode tools while recording Hyperlapse.