Android Pay got a rebranding around three months ago and the new Google Pay is up for the service since then. While most of the  Android Pay users should have known about the subtle name change. Yet there are major portion of Android users who're unaware. For that, Google has come up with Referral Scheme on Google Pay to rope in new users by popularizing the Google Pay branding.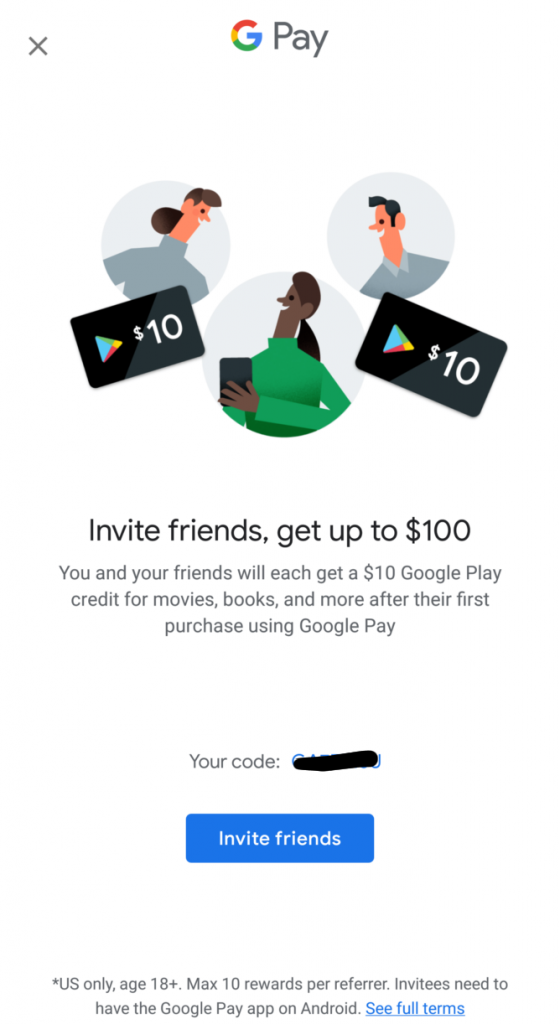 Under the new promo offer, when you refer and invite someone to the Google Pay. You and your referred person both will be rewarded with $10 as Play credits once the latter makes a valid purchase. It's kinda strategy Google adopted for popularizing the Google Tez among Indians.
The offer can be seen on Google Pay app's feed tab. In order to invite a new user, tap the 'Invite friends' button and you'll see your unique invite code. Coupled with another 'Invite friends' button that opens you share menu consisting of available messaging services. Remember that, the referred party should be a new entrant to the Android Pay or Google Pay. That is your friend should have never used the Android Pay or Google Pay before. Also, you can refer ten times for a maximum reward of $100 in Play credit.
Moreover, the redeemed Play Credits have validity of 28 days only. Hence, be quick to purchase items using the credits from Google Play Store as soon as possible. The Refer and Earn offer is live on all most all Android Pay/Google Pay supported countries such the US, the UK, Canada, Australia, Poland, and Russia.