In a spree to launch Nokia 6, 5 and 3 in most of the world before June, HMD global is up with pre orders in Germany via O2. Already, Nokia has made their new smartphones available in India, native country Finland and many other countries.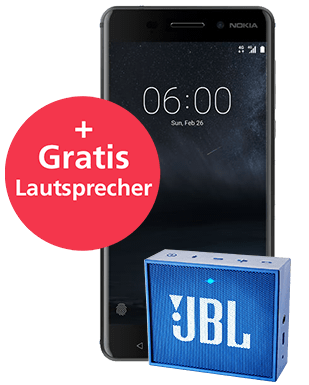 Users, who want to own the Nokia 5 or Nokia 6, can head up to the O2 store online to buy it. There are two options to buy the device, the first is giving the whole upfront fees of t EUR 217 and EUR 253 for Nokia 5 and Nokia 6 respectively. Another, is opting for the 24 months contract with monthly payment. Currently, O2 is offering free JBL Go portable speaker if you pre order it.
If you owe to buy Nokia 5, you have to €18.99 per month for O2 Blue Basic and €28.99 per month for the O2 Free L.  As like for Nokia 6, you need to shell out €20.49 or €30.49 for 24 months.
Nokia announced these new devices at Mobile World Congress (MWC) 2017 in Barcelona. Now, Nokia 9 is expected to be a upcoming flagship device of Nokia.
Users, can head over to the source link to pre order the device.
Source: Nokia 5 pre-order, Nokia 6 pre-order